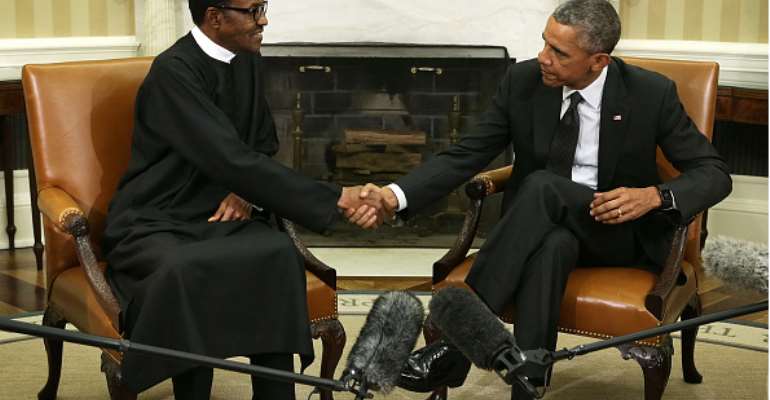 "If it is about Buhari making appointments based on merit, I have no problems with that. I don't believe Buhari or Nigeria owes any Igbo anything. I don't care what Dr. Ezeife says. If the Igbo had seceded, there would have been no Nigeria today. As people who acted outside the interest of Nigeria as a country, to expect compensation is a very odd logic. If the Igbo don't like it, they can attempt secession again. If they do, they must be prepared to live with the consequences. Nobody owes them anything and nobody is out to compensate them for anything."
According to reports, those were the controversial utterances of Dr. Junaid Mohammed, a Russian-trained medical doctor, politician and northern Nigerian leader when he recently convened a meeting of the coalition of northern politicians, academics, professionals and businessmen.
It would not be the first time Dr Mohammed is in the news for the wrong reason. Related News The 10 June 2014 edition of Punch newspaper carried a story titled "Ethnic Suspicions Haunt National Conference", in which Dr. Mohammed said "every issue that has been canvassed for holding the Conference has been found to be false. The issues canvassed are agitations by some people sponsored by the Presidency. Whether it is true federalism or true fiscal federalism, none of them has materialised. Those who agitated for the conference should tell us why their darling National Conference has not produced true federalism. The meeting we had in my committee, the Committee on Devolution of Power, was knocked off by me and it was declared unconstitutional. Resource control is not going to happen as long as we (Northerners) are part of Nigeria."
Junaid may have spoken the minds of many Nigerians who hail from the North. But it is obvious that he was not representing the North in a way that would have recognised him or thrown him up as a national leader. From these statements, it is pretty clear that he is essentially a tribal leader whose narrow interests cannot embrace the national banner.
Indeed, Chief Femi Fani-Kayode rightly observed that the implications of Dr Mohammed's submission at the Conference were quite elucidating and far reaching. Dr. Mohammed was particular in rubbing it into the face of southern delegates at the Conference that no resource control measure can be put in place unless the north assents to it. This was inspite the fact that the southern delegates had hoped the Conference would recommend a restructuring of the entire country, establishing true federalism that would be characterised by regional autonomy, resource control and state policing, among other changes. Simply put, Mohammed meant that nothing could change in terms of the constitutional structure of Nigeria unless the north agreed to it. It didn't matter how everyone else felt or what their collective aspiration is. That is as controversial as the man can be.
As an educated man, every Igbo in all parts of the country and in the Diaspora expected Dr Mohammed to be in a position to know better. And because they feel disappointed in him and in his unguarded utterances, Igbo elders immediately rained down on him, in a robust defence of Igbo interests, or so it seemed.
The leadership of Njiko Ndigbo called for his arrest and prosecution for treason. It claimed that Dr Mohammed was inciting the Igbo to war again. Even Chief Femi Fani- Kayode berated him, describing his comments as most insensitive, cruel and puerile. However, it was the leadership of Ohanaeze Ndigbo that hit the hammer at the head of the nail. The President General of Ohanaeze Ndigbo, Chief Gary Enwo-Igariwey, told the nation that his organization would not like to join issues with Mohammed over what he described as an irresponsible statement.
Indeed, it would be unfortunate if Dr Mohammed made those utterances. As far as most Igbo people are concerned, no one in Nigeria is capable of intimidating the Igbo as a people. Nor can the Igbo be marginalised in Nigeria as situations stand today and even in the future. As a very enterprising people who have been places and achieved much, there is no gainsaying that the Igbo have come a long way in Nigeria.
The problem the Igbo share with the other ethnic components in Nigeria is that because of the republican nature of their social structure, and because many Igbo are highly educated, they have continued to find it difficult to adopt a consensus leader. And they are not alone. The same thing is happening in the West, among the Yoruba and even in the North, among the Hausa.
Since the demise of Dr Nnamdi Azikiwe and Dim Emeka Ojukwu, the Igbo have been saddled with the problem of finding and fully supporting a credible leader among themselves. That is why so many forms and sizes of organisations with quasi leaderships appear to be springing up in every nook and cranny of the East, each claiming to represent the interests of the Igbo. Perhaps, Professor Ben Nwabueze would have done well as the accredited leader of contemporary Igbo society. He seems to be the most credible leader at the moment.
But certainly, age is not on his side and somehow he does not seem to have the charismatic charm to lure the generality of Igbo people into submission and willingness to be led into a rebirth of that formidably united organisation they once were, which they lost with the collapse of the Biafran experiment . So, they have to settle for leadership by their elders, which seems to be the wisest approach to their dilemma – until an acceptable political (not traditional or religious) leader emerges among them, who has authority. That is where the Igbo should look towards, in their search for a credible leader for the Igbo nation.
Fortunately or unfortunately, the Hausa have the same problem.
Since the demise of Sir Ahmadu Bello and Sir Abubakar Tafawa Balewa, the Hausa have not got one credible leader they can completely trust. They too seem to be counting on a leadership of the elders. To buttress this contention, it will be recalled that in a 19 March 2014 interview with Sahara Reporters, Dr Junaid Mohammed who was a second republic politician and one of the Kano state delegates to the National Conference, blamed the 1966 coup as the reason the North is today left with "scoundrels, crooks and despots" as leaders. He made the accusation during an interview with Sahara TV.
Dr Mohammed asserted that "from the time the Igbo staged a coup and decapitated the entire military and civilian leadership of the North, the North has never had a decent leadership. That's the tragedy of the 1966 coup."
Acknowledging that it would be uncharitable to blame the federal government for the mess in the north, and that the north had been completely irresponsible in the way it chose its leadership, the Russian-trained medical doctor said to Sahara TV's Rudolf Okonkwo: "Look at the governors we have in the North, for Christ's sake. Will these people lead anybody to the Promised Land? I don't think so." Dr. Mohammed then urged the North to do more to challenge their own local despots, insisting that "a lot of crooks and rouges and scoundrels are stealing them (the Northerners) dry."
Even among the Yoruba, the story is pretty much the same. Since the demise of Chief Obafemi Awolowo, Chief William Akintola and perhaps, Chief M.K.O Abiola, the Yoruba cannot point at one of their own as their collective leader. They, like their Hausa and Igbo brothers, also seem to be leaning on the leadership of their elders, even within the Afanifere enclave.
So, in a sense, the problem of having a consensus leader in any of all three major ethnic groups in the country is a national problem. Reading between the lines, therefore, it is simple to appreciate that the situation Nigerians find themselves in currently only points to one direction. The days of tribal leaders are over. And so, what the country needs and should be looking to endorse should be national leaders who will be committed to the building up of a Nigerian nation that its citizens can be proud of belonging to, whether they live in Nigeria or in the Diaspora. This fact also implies that no section of the country should be thinking of being marginalised by another because all sections are yet in search of credible national leadership. Who know? Maybe in the future, Nigerians will find one in their incumbent President, Buhari.
But be that as it may, the fact remains that with or without government intervention Nigerians can still make their country what they want it to be, on their own. In a very interesting article that was published in Punch newspaper edition of 18 August 2015, Azuka Onwuka made very valuable observations along this line. Commenting on Igbo-Yoruba relationship in Lagos, he said that a weird alternative would be to send all Igbo out of Yoruba land – which would not be an option at-all because the Igbo are Nigerians and have a right to reside in any part of Nigeria without any passport or residential permit. Again, even if the Igbo and the Yoruba didn't belong to the same country, the global standard practice is that people are free to reside in any country of their choice once they have the valid documents. They have a right to own property once they can afford it. Onwuka observed that, currently, Nigerians reside in all parts of the world and own property in their host countries without being citizens of those countries.
Onwuka observed that at the moment, many Yoruba seem to be averse to living in other parts of Nigeria outside the Yoruba enclave, noting that interestingly, they loved to live in large numbers in the UK and the US. To balance "the skewed equation" between the Igbo and the Yoruba and reduce the tension between the two ethnic groups, therefore, he suggested putting in place a strategic migration of the Yoruba "in their droves" into Igboland, residing there with their families, transacting business, buying property and participating in local politics and social activities in Igboland.
He was of the informed opinion that once the Yoruba can take a decision to "invade" the South-East in large numbers, the relationship between them and the Igbo will improve greatly. "They will stop feeling short-changed by the Igbo. While an Emeka is buying a house in Okota, an Ayodele would be buying his own house beside Emeka's ancestral home in Amawbia. While a Dozie is calling himself Eze-Igbo of Ojo, a Dayo is calling himself Oba Yoruba of Ngwaland."
Finally, Mr. Onwuka pointed out the fact that in all parts of the world, settlers always have an edge to succeed over the indigenes. "Settlers come with different perspectives. They naturally think outside the box. They see things differently and therefore spot opportunities that indigenes can't spot. They have more drive to succeed. While sons of the soil live in their own houses and pay no rent, and have access to farmlands where they can get food for free, etc, which makes them complacent and conceited, settlers know they have to succeed or die of hunger or get booted out by their landlords. They are also not bogged down by their culture or positions. A prince in a foreign land will pocket his title and do even menial jobs to succeed, but he can't do the same in his own land."
People like Dr Mohammed should begin to think of how to help make Nigerians more nationally than tribally oriented. That is the least good natured Nigerians would expect from a man as educated as he is. No one would expect a man in his position to continue to see the country and its people with the same jaundiced eyes as the illiterate population. Our educated men and women should begin to reason like Mr Onwuka in whom I see the traits of a true Nigerian. Leaders from the East, the North and the West should think about and get down to implement the things that will bring Nigeria's ethnic populations closer to each other, economically and socially, not the things that emphasise their differences.
Come to think of it.
Today, America is a contemporary example of a true democracy. America has 50 states, 50 big states – some of them bigger than Nigeria. But each state has its own resources to manage. Each manages its own schools, its own customs, its own police, its own roads etc. And yet there is a viable and strong central government. And there is cooperation among brother-states. If this entire 'I am Igbo, I am Hausa, I am Yoruba mental attitude of Nigeria has to stop and pave the way for Nigeria to move forward in its march towards true nationhood, Buhari should take a clue from America.
Mr Asinugo is a London-based journalist and social commentator