Ghanaian Community In France Reinforces Its Traditional Council And Leadership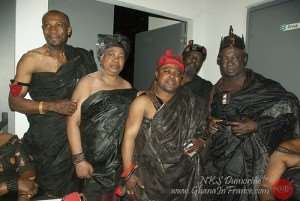 The Traditional Council of Ghanaians in France has this day 15/08/2015 proceeded to the enstoolment of several subchiefs and Queenmothers.
It all happened at Saint- Denis La Briche near Paris. The occasion was a major program to commemorate the first anniversary of the demise of Nana Yaw Sarpong Kennedy the immediate past Overall Traditional Chief of the Community.
Before Nana Ansah Sasraku, the ruling Ghana hene, Nana Adjoa Kour, the ruling Ghana Hemaa, the traditonal Council and and a well represented cross-section of the Ghanaian Community in France, several new traditional rulers swore their Oath of Allegiance.
Ghanainfrance.com will soon publish the list.
In his closing remarks, the President of the Federation of Ghanaian Diaspora in Europe, Hon Osei Mensah Michael who doubles as the GHACIF President, congratulated the newly enstooled leaders.
Still on behalf of GHACIF and FEGHADE, he thanked Nana Ansah Sasraku and Ohemaa Adjoa Kour and the Traditional Council, for making their wisdom available to their compatriots in France. He said that this move will lighten the leadership workload within the community. He promised to get the enstoolment gazetted on appropriate records.
The Master of Ceremonies for the program was M.C. Boahen. The Cathechist of the Presbyterian Church of Ghana in France, Mr. George Asare said the Opening Prayer. Nana Serwa Frimpongmaa 1st , President of the GDF, Ghana Diaspora Fund was also present.
Ghanainfrance.com and several other media houses made a wide-range coverage.
The entire organization was instrumented by Nana Baffour Awuah Agyeman 1, NkosourHene of Ghanaians in France.