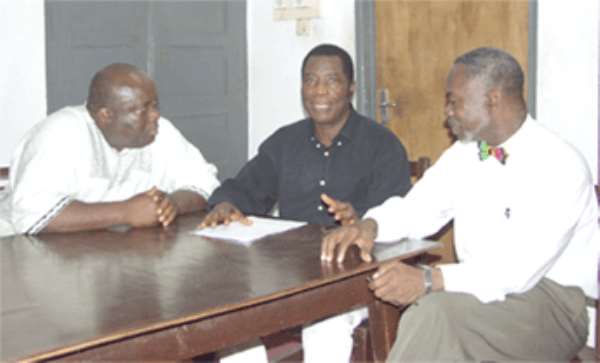 The Grand Coalition, comprising the Great Consolidated Popular Party (GCPP), the People's National Convention (PNC) and the Every Accountable Ghanaian Living Everywhere (EAGLE) Party has agreed to field a common presidential candidate for the December polls. Consequently, the coalition will constitute an electoral college made up of three representatives from each of the parties in the coalition to elect the common candidate on September 30, 2004.
A release issued in Accra and signed by the Chairman of the coalition, Mr. Dan Lartey said the decision was arrived at after a meeting between the leadership of all the three political parties. It said the contest for the common presidential candidate would be between the flagbearers of the PNC, Dr. Edward Mahama and Mr. Lartey of GCPP, because the EAGLE party had decided not to contest the position of a presidential candidate. It said each party of the coalition had been requested to file its respective congress resolution, ratifying the grand coalition by September 28, 2004.
In an interview, the chairman of EGLE, Mr. Dani Ofori Atta said the coalition had also decided that immediately after a common presidential candidate had been elected, the coalition would form a committee to select and vet common candidates for the parliamentary elections. He welcomed the move and said that it would propel the coalition to move to greater heights.
Dr. Mahama said the decision was taken after an indepth consideration by the three political parties and that they would work hard to win the polls to take the country out of the doldrums. He said should the coalition win the election, it would institute and implement human-centered programmes that would bring relief to the people. On his part, Mr. Lartey said the parties would also come up with a common manifesto. He said the coalition was bound to win the election and secure majority seats in Parliament to rule the nation.