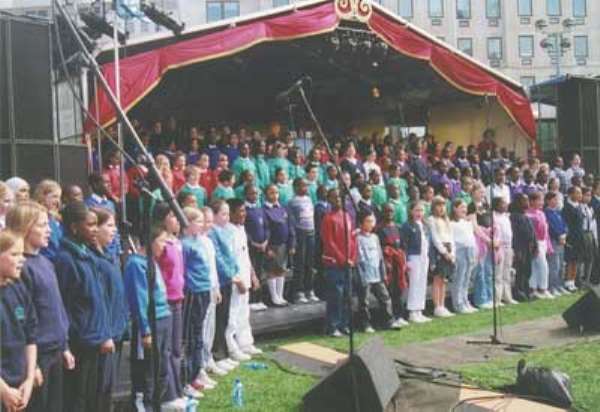 A mass choir of 500 school children drawn from 45 schools across the London metropolis stole the spotlight with their captivating and exotic songs at the "Sing for Water" concept in aid of water projects in Ghana.
Led by Mr. Richard Froststick, a Director at the Islington Music School, the choir sang a traditional Ghanaian song entitled "Kyiame" and performed other traditional songs from Rwanda, Czechoslovakia, Tanzania, Bulgaria and Scotland.
"Sing for Water" concert, attended by 36 leading choirs from England, France, Scotland and wales, was organised by WaterAid, an International NGO dedicated to sanitation and provision of safe drinking water.
An amount of £40,000 was expected to be raised to provide 18 bore holes,120 places of convenience and health education for communities living in the Kete Krachi District in the Volta Region of Ghana.
It was held as part of Thames Festival 2004, organised annually under the auspices of the Mayor of London to celebrate the rich cultural and ethnic diversity of people living along the Thames River.
Others events held as part of the 2-day festival included street carnivals, riverside bazaars, display of street Arts, fireworks displays and other live musical performances by a variety of groups.
Dignitaries present at the concert included Mr. Kwabena Baah-Duodu, Ghana's Deputy High Commissioner to the United Kingdom, Honourable Simon Hughes , MP , Thames Festival Trustee, Mr. Iddrisu Doucoure, WaterAids Regional Manager for West Africa, Ms Helen Chadwick, Director of WaterAids Projects in Ghana and Ms. Eleanor Hazell, a community fundraiser for WaterAid .
Launching the event, Mr. Baah-Duodu noted that the supply of clean water was vital to the sustenance and maintenance of healthy lives and the growth of industry and added that there "could be no development without water"
Mr. Baah-Duodu therefore appealed to the audience to "dig deep" into their pockets to support the campaign that would bring clean water and sanitation to some of the most deprived communities in Ghana.
"With your help, we are going to make a difference in the lives of these people and save them from the drudgery of spending several hours each day collecting water from muddy rivers and streams" said Mr. Baah-Duodu.
The Deputy High Commissioner thanked WaterAid for their commitment to the development of Ghana and assured them of the Government's continued support for their programmes.
Ms. Hazell described the concert as a success and was optimistic that the targeted £40,000 would ultimately be raised to enable WaterAid pursue its community development projects in Ghana.