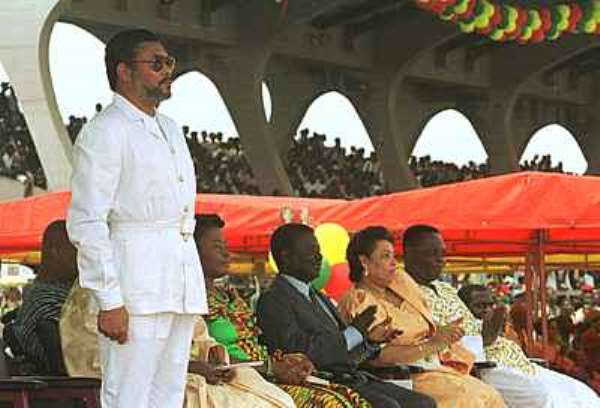 Cape Coast, Sept 19, GNA - Former President Jerry John Rawlings on Sunday expressed concern about the incidence of "mass corruption and injustices" in the Ghanaian society.
He said evidence of corruption prevailing in the country was worse than any one he has ever seen and that it was an insult to the integrity and dignity of Ghanaians.
The former President expressed said this when he joined the members and supporters of the Cape Coast constituency branch of the National Democratic Congress (NDC) in a keep fit exercise in Cape Coast. All businesses came to a stand still when a cross section of the public, including party supporters, lined-up the streets of the Cape Coast municipality to catch a glimpse of the former President who paraded some of the streets amidst brass band music and wonderful displays by motor and bicycle riders.
He said the truth, freedom and justice, the media, the judicial service and the security agencies were being transformed into "tools of oppression" and if this was not checked it would worsen the corruption and injustices in the country.
Former President Rawlings said there was a "peaceful revolution" going on in the country and that the government should listen to the voice of the people who are crying for the restoration of their dignity. He expressed his disappointment in the current dispensation of democracy in the country and urged the party supporters and Ghanaians to use the December elections to resist the 'oppression' they were going through by voting the NDC back to power and that until this was done freedom would elude them forever.
The former President thanked the people for the massive support they still have for the party and asked them to transform it into votes come December.
Dr Ato Quarshie, the Regional Chairman of the party, urged the people not to repeat the mistakes they made in the 2000 elections. ''You should come out in your numbers to vote for Prof John Atta Mills. The region has never produced a president and this year is for you to produce one.''
He said Prof Mills was the only saviour for the region and would help change its fortunes if elected president and called for peace and unity among the party's rank and file.
Mr Burton Oduro, parliamentary candidate for the Cape Coast, told the people to appreciate the good things the NDC did for them and vote it back to power.
He said others would like to use money to deceive them for their votes but that they should consider their living conditions and vote wisely.