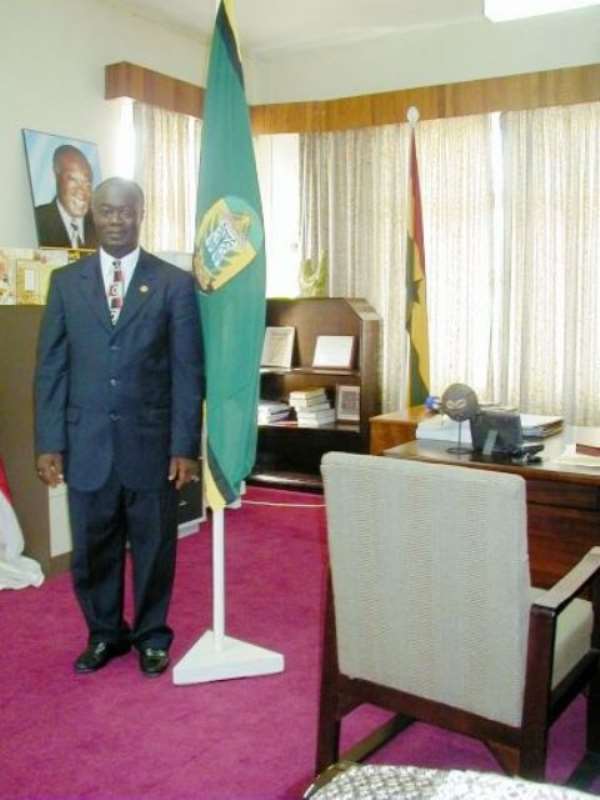 Kumasi, Sept 16, GNA - Mr Maxwell Kofi Jumah, Kumasi Metropolitan Chief Executive, last Thursday received the Nobles International Award at a ceremony held at the Accra International conference Centre. By virtue of this conferment, Mr Jumah is now a fellow of the prestigious West African Nobles Forum, a think-tank of distinguished and eminent West African citizens.
A release issued by the Public Relations Department of the Kumasi Metropolitan Assembly (KMA) in Kumasi on Wednesday, said Mr Jumah was nominated for the award in July this year by the West African International, publishers of the leading Pan African Weekly, the West Africa Magazine. The award is conferred on distinguished persons in West Africa whose innovations and selfless efforts in their chosen fields of endeavour have earned them recognition in and beyond the shores of their respective countries.
Past Ghanaian winners of this prestigious award include Dr Kwabena Frimpong-Boateng, founder of the internationally famed Cardiotheracic Centre, at the Korle-Bu Teaching Hospital, and now Chief Executive of the Hospital and Alhaji Asumah Banda, chairman of Antrak Group of Companies. A product of the Kwame Nkrumah University of Science and Technology (KNUST) and the Graduate School of Management of the Rutgers University in the United States, Mr Jumah, 54, assumed office as KMA Chief Executive in May 2001.
The award was conferred on Mr Jumah for his "courage, steadfastness, integrity and foresight in addition to his virtues of honesty, integrity and accountability", according to the letter of nomination and citation signed by Reverend Dr Dee Otibu-Asare, Secretary of the Forum. Among Mr Jumah's major achievements are improved revenue generation for the KMA from about four billion cedis in 2000 to about 14 billion cedis last year.
The construction of the Buobai Faecal Sludge and the Dompoase Landfill facilities at the cost of 40 billion cedis to take care of solid and liquid waste generated in the city are also some of his key achievements.
The first of their kind in Ghana, the two facilities have saved the metropolis from dumping solid and liquid waste in natural valleys and streams, as was the case in the past. His tenure of office has also witnessed the introduction and consolidation of new schemes such as house-to-house refuse collection, house numbering and street naming, sister city initiatives, computerisation and networking among others to address the daunting challenges of managing a city like Kumasi.
His prudent uses of resources and lobbying skills have also contributed to the execution of educational, electrification, roads and health projects on a scale unprecedented in the recent history of the metropolis. Mr Jumah, who is aspiring to be a Member of Parliament, has already been endorsed to be the NPP parliamentary candidate for the Asokwa constituency in the December elections. Mr Jumah thanked the organisers for the honour done him and pledged to continue to discharge his duties with a high sense of responsibility to justify the confidence reposed in him.