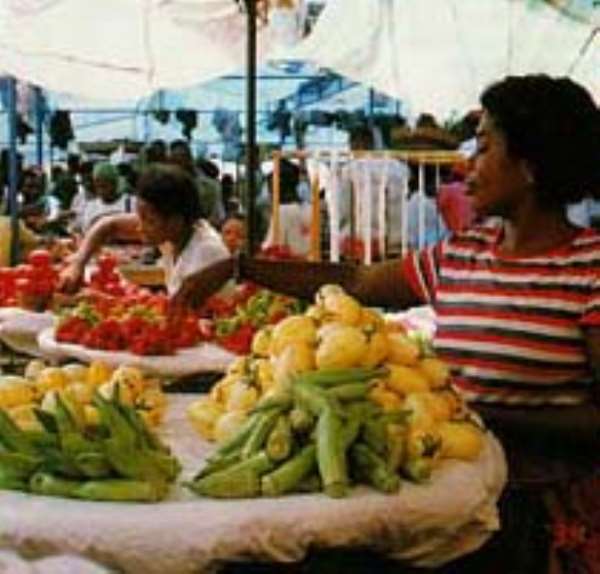 Seikwa (B/A), Sept. 16, GNA - President John Agyekum Kufuor on Wednesday inaugurated a 2.7 billion cedis market at Seikwa in the newly created Tain District and commended the people for their hard work and ability in trading. The Government and the German Technical Co-operation (GTZ) funded the construction of market. It has 24 storerooms and 312 stalls. President Kufuor, who is on a five-day tour of Brong Ahafo advised the chiefs and people against litigating over the location of facilities but rather to unite and assist the new district assembly for the accelerated development of the area.
Nana Twum Barimah 11, acting President of Seikwa Traditional Area, commended the government for the creation of the new district, which he said would enhance efficient and effective development as well as the provision of more development projects. The projects, he said, included school buildings, electricity, potable water, health facilities, places of convenience and a market. Nana Twum appealed to the government for the early completion of the rehabilitation works on the Seikwa-Nsawkaw and Seikwa-Berekum roads and the construction of a hostel for Seikwa Senior Secondary School.
President Kufuor inaugurated a 2.2 billion cedis market for the people of Badu, also in the Tain District. Addressing a durbar of the Chiefs and people, President Kufuor appealed to the people to exercise restraint in their demands, saying, "no area can develop in chaos, but only when there is peace and unity among the people". He said a district assembly could only function effectively and efficiently if it had committed and dedicated members and not the location of the district capital. President Kufuor asked the people to be law-abiding to be able to contribute to the development of the area and assured them that the main road to the town would be rehabilitated.
In a welcoming address Nana Asare Boakye III, Krontihene of Badu thanked President Kufuor for extending the visit to the area and appealed for the rehabilitation of the eight-kilometre road from Tain junction to Badu, which is in a deplorable condition. They would also be happy if the President helped in the rehabilitation of the 21-kilometre Badu-Sunyani trunk road as well as the upgrading of the local senior secondary/technical school. The market, comprising 400 lockable stores and sheds and completed in July this year, was constructed under Prodicap-two fund. President Kufuor would end his tour on Thursday with visits to Techiman, Kintampo, Jema and Nkoranza.