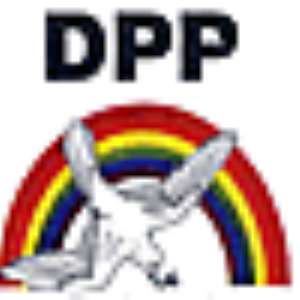 ... Vote For DPP The Brong Ahafo Regional Chairman of the Democratic People's Party (DPP), Mr Augustine Amanfo Antwi,has expressed concern about the poor living conditions of Ghanaians under the New Patriotic Party (NPP) administration and urged Ghanaians to vote for the DPP.
According to him, life under the NPP government has become unbearable as a result of high utility tariffs, high school fees and meagre salaries paid to workers. Mr Amanfo Antwi made those remarks at the party's regional meeting held in Sunyani to adopt strategies to win the presidential and parliamentary elections in the region.
He noted that the average Ghanaian could not afford the high cost of living, adding that the harsh economic conditions in the country had also contributed immensely to the recent moral decadence being experienced in the country. He stated that the NPP government had failed woefully in the management of the affairs of the country and had also not been able to fulfil the aspirations of Ghanaians after the 2000 elections.
Mr Amanfo Antwi therefore, called on Ghanaians to vote massively for the DPP to steer the affairs of the nation and to bring back the lost hope.He added that it would be a mistake for Ghanaians to return the NPP to power or even vote for the National Democratic Congress (NDC), since the policies pursed by both parties were inimical to the wellbeing of the masses in the society.
Nana Nsia Ababio, the DPP parliamentary candidate for the Hwidiem Constituency, urged supporters of the party to work hard to ensure total victory for the party, since Ghanaians were fed up with both the NPP and the NDC.
Mr Kinsford Fordjour and Nana Antwi Boasiako, DPP Parliamentary candidates for Sunyani West and East respectively, called on party supporters to desist from all negative tendencies in their campaign which tended to affect the fortunes of the party.