July 6, 2015
|
Diaspora Diaspora (France)
Statement By Naa Tsotsoo Soyoo I, At Ghana Republic Day And Fundraising For Flood Victims In France 1st July 2015
Ghanaian Community In France Council, GHACIF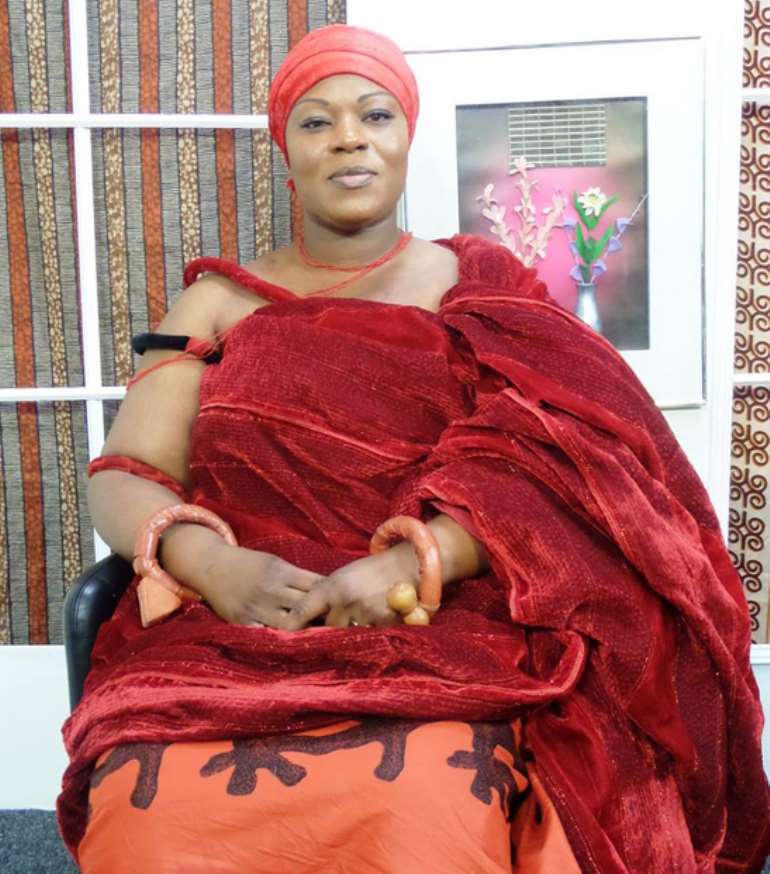 Mr Chairman, your excellencies members of the Ghana Embassy in France, Nananom, President of GHACIF and FEGHADE, fellow Ghanaians, Ladies and gentlemen
While it pleases me to be here with you in France, I am saddened by the tragic circumstances that have necessitated my coming here today. Ghana lost some of her children and we in turn lost our brothers and sisters. Before I proceed therefore, let me say to all Ghanaians today that 'mi ma mo yaako, damrifa due, afee nooko, kpoo'. I also bring you Happy Republic Day wishes from fellow Ghanaians in the UK and from the members of FEGHADE across Europe.
My talk today is based on an analogy a very good man (Rev. Aggrey Ogoh) gave me on the way back from UK's memorial service for the flood victims. It was such a moment of revelation that I told him I was coming to Paris for the memorial and will be using it. Rev. Ogoh is one of those unique people with a true insight into the human spirit and none of the hypocrisy that so often is the hallmark of some so-called men of God. He told me this: "Naa, in the aftermath of the horrific deaths in the floods, Ghanaians are truly crying out for change but without the understanding that change must come from within.
Have you ever sliced open a garden egg or aubergine, only to find a worm eating its way through it?" Often, on looking at the garden egg, one does not notice anything wrong with it until it is cut open. This is because the worm has figured out that if in trying to get into the vegetable, it was to make a big gaping hole, it would be easy for its activities to be detected and possibly be killed as a result.
So it makes the tiniest hole and enters and once inside, eats its way around until it has completely destroyed the garden egg. That is what Ghana needs right now.We need to behave like the worm but rather than destroy from within like we have been doing, make positive changes from within" Fellow Ghanaians, we have talked and argued our way, disagreed politically, tribally and even socially but in the end, we are indeed one nation, one people with one destiny. What that destiny is, is up to us. That destiny is determined by our own determination to either carry on the way we are; engaging in destructive choices that we will ultimately have to answer to posterity for. I do not accept the thinking that Government has to take care of everything.
Ghana is our collective responsibility. We need to look after her. This means taking care of her environment, adhering to planning rules and leading our young ones by example. Those of us that live abroad know only too well how we abide by rules and regulations and the consequences when we do not. We the people must be willing to therefore refrain from the arrogant disregard for rules when we go back home. Government cannot make changes unless we, the people make those changes too. By our positive attitudes, we can hold our leaders accountable. Our partnership with our brothers and sisters at home is very important in enabling development.
It was for this reason that the FEDERATION OF GHANAIAN DIASPORA IN EUROPE (FEGHADE) was established. Made up of strong, experienced, committed and focused leaders of member countries across Europe, the aim is to enable all of us to put our thoughts together to go beyond the rhetoric, power struggles, empty talk and really challenge ourselves towards making Ghana greater. With the Presidency here, you in France, are set a greater challenge; to prove that you will indeed put your country first.
Ghana needs us all. Your generous donations today will help families affected by this tragedy to be able to move on and rebuild their lives. Lives have been lost but living does not have to stop for them. And so today we remember those that lost their lives in the floods We remember them not because they made headlines or triggered news stories We remember them not because they made personal impact on us or our loved ones Or indeed that they had letters after their names or degrees and accolades as their legacy.
We remember, the taxi driver, the hawker, the food seller, the trotro driver and his mate, We remember the passenger and the beggar in the street, the dog chain seller and the hustler We remember the kayayoo, the civil servant, the business man and woman We remember them because they were human We remember them because they were one of us We remember them because losing them hurts us all We remember them because we owe it to Mother Ghana And in our remembering, we celebrate their legacy They who have given their lives that Ghana should grow, For this and many more, we remember them! I would like to thank my colleagues Mr Michael Osei Mensah, Mr Alfred Ohene-Akonor, The Ghana Mission in France and all of you for inviting me here today.
As you go back to your homes, may you be protected and safe. Vive la Ghana, Vive la France!
Thank you
HM Naa Tsotsoo Soyoo I. Sec. Gen. FEGHADE