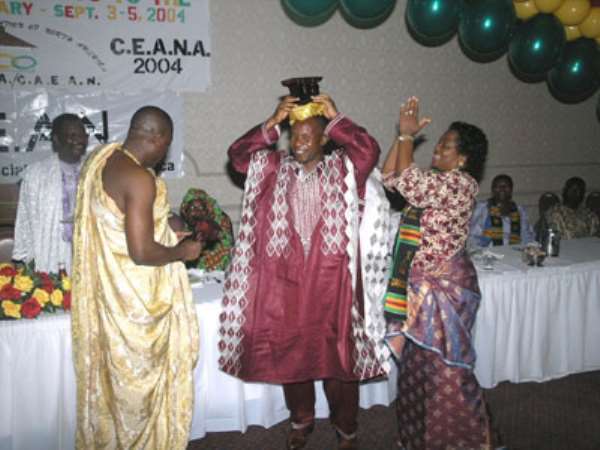 In what was supposed to be the annual meeting of the Council of Ewe Associations of North America dubbed "United Nations of Ewe Associations, family and friends of Ewes came from all over the world to the windy city, "Chicago my kind of town" and also known as "Chi-Town" which has also a young dynamic Ghanaian NFL Star of Chicago Bears fame, Jerry Azumah (Can you believe it, I just met him, we are so proud). The event commenced during the Labor Day weekend, September 3(superscript: rd)-6th and the weather was awesome for a great outing. CEANA 2004 has a great vision because Ewes on this occasion proved that nothing would stop them from coming together as people for the betterment of the Eweland.
The Communique Report after the 3 day convention in Chicago is as follows;
The Council of Ewe Associations of North America (CEANA) held its 11th Annual Convention in Chicago from Sept. 3rd to Sept. 5th, 2004. The theme for this year's convention is, "Salvaging Education in Eweland through structural and technological changes and cultural awareness." The keynote speaker was Mr. Gbekorbu Kofi Noagbenakpoe. He noted that in Eweland, as in most other parts of Africa, there is a dislocation between the skills needed to develop resources in the area and the skills and cultures that the schools teach. Hence, the Ewe saying that, "enya agbalemenunya gake menya afemenunya o." He recommended that the schools in the area should teach technical skills to equip their products with the tools to release the potentials of their environment for economic growth and development. He traced Ewe calligraphy back to early civilizations in the Nile valley (the writing of hieroglyphics) and compared its ease and flexibility to international languages such as English and French. He said that studies of all languages in Africa (by UNESCO) identified Swahili and Ewe for use as international languages and urged participant to advocate for the use of Ewe as a medium of instruction in schools in Eweland and beyond emphasizing that a child learns better in his/her mother tongue. Mr. William Ayenson, the Guest Speaker for Convention, recommended that participants should use the new friendship they have developed with each other to form partnerships and develop businesses to improve their standards of living so that can be better able to support CEANA.
At the Council of Representatives' (COR) and General Membership meetings held on Sept. 3rd and Sept. 4th, 2004 respectively, the following decisions were made:
1. Hold off a CEANA Convention in Ghana till July/Aug. 2007 and establish
nine (9) specialized committees to start preparations for it.
2. Identify a major project to start and be ready to complete before the
CEANA Convention in Ghana in 2007.
3. Continue the CEANA Scholarship Program and award five additional scholarships to John Misiwo, Mawunyo Sosa, Afenyo Bekui, Franklin Boti and Eyram Agorsor.
4. Award 2.7 million cedis to Kafui Amegbe, a former CEANA Scholarship recipient, for maintaining excellent academic performance and for showing gratitude and accountability by writing back to show his exam results and to thank the Council for helping him.
5. Adopt a five-year development plan to improve the financial standing of the Council.
6. Inaugurate and promote the Star Membership Program as one of the major internal revenue earners for the Council.
7. Expand the external income base of CEANA by soliciting funding from foundations, philanthropists and state/federal government agencies.
8. Establish a functional CEANA ? NGO in Ghana in two years.
9. The Presidency of CEANA was transferred from Toronto, Canada to Chicago, Il. and Dr. Mark Kutame became the new CEANA President.
10. The Council also decided to hold the CEANA Conventions in 2005 and 2006 in Washington, D. C. and New York, respectively.
The President, Dr. Mark Kutame and the Secretariat acknowledge with thanks and gratitude the presence of Ms. Mercy Bolus, the President of the Agave Association in London, Mama Kyerebea Ameyibor IV, the Queen Mother of Peki Traditional area, Togbui Foli Amanyo III, Dufia of Tsiyinu in the Afife Traditional area, Togbui Egbe and Mama Dzigbordi Tamakloe of UVA in New York, Mama Afua Abeli of Chicago, Togbui Venya of Chicago, Togbui Dunenyo Midadze of Aflao Traditional Area and all the chiefs, dignitaries and members of the media, Mr. Charles Nimmo N-Mensah aka Mr. CNN, Mr. Reuben Hadzide represented Ghanaweb International and the Akasanoma Radio team from Canada who graced the occasion with their presence. The torch has now been passed to Washington, DC so see all of you, family and friends in Washington, DC in 2005.