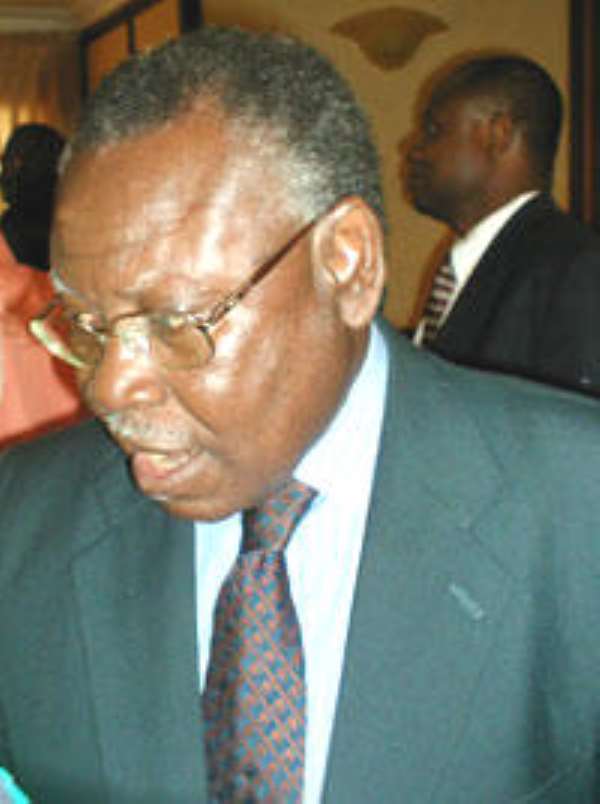 The only contestant who failed to step down for the Senior Minister, J. H. Mensah, Mr. Kwasi Ameyaw-Cheremeh has been appointed by the senior minister as a member of his campaign team after he had lost the race to him by 72 against 26 votes in the primary held at a remote village, Antwi Krom, near Sunyani.
Also appointed in the team were the other contestants who bowed down for Mr. Mensah, namely; Nana Obiri Boahen, Mr. Kwame Twemasi, Dr. Kofi Bobi Barima and Mr. George Kumi, Ghana's Ambassador to Libya.
According to the defeated candidate who earlier leveled vote-buying allegations against the senior minister, the election was the most transparent, freest and fairest in the region.
He promised to work hard to ensure victory for both Mr. Mensah at the parliamentary level and Mr. J. A. Kufuor at the presidential elections.
Mr. Cheremeh, accepting defeat, told the delegates that, it was his wish to get the primaries conducted as the democratic process to elect the representative of the people and, true to his wishes, the primary took place.
Commending the Senior Minister for winning, he emphasized that; democracy had taken one mile further.
He, therefore, assured Mr. Mensah and all supporters of the NPP to support the senior minister whom he described as his grandpa in his campaign to fight the NDC.
The losing parliamentary aspirant, also a private legal practitioner, said, now the battle of Sunyani East was over, the only enemy to battle off was the NDC, who were poised to wrest power from the NPP.
The Senior Minister, who conceded that there had been no primary in his constituency in his life, therefore described this primary as historic.
According to him, he had never bragged of winning the primary and had never engaged himself in any vote buying or bribery act, but the delegates, through their own conscience, thumped for him to lead them in the next parliament.
Mr. Mensah who lambasted the immediate past government for peddling lies and accusing the NPP government for incompetence, said Rome was not built in a day, and the NDC's eight year rule had worsened the country's progression totally.
He said President Kufuor and his government did not promise to develop Ghana within four years and for that matter, the people must permit them another term to enable them continue their good and outstanding policies for the betterment of Ghanaians.
The Senior Minister was of the view that, the 2004 presidential and parliamentary elections would favour the NPP without any round off.
The National Chairman of the ruling NPP, Mr. Haruna Esseku noted that what had transpired at the primaries had confirmed the democratic credentials o f the NPP. "We are the only political party, which can run this country democratically and give the people their desires".
He, however, charged all Ghanaians to go to the polls and vote massively for the NPP in the forthcoming general elections.