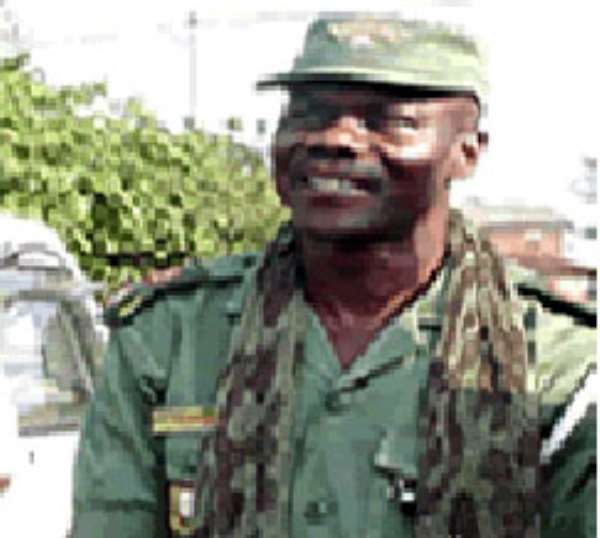 A combined police and military team is said to have raided the Ridge Residence of the last commanding officer of the erstwhile 64 Regiment Forces Reserve Battalion (Commandos), Lt. Colonel (rtd) Larry Gbevlo Lartey.
The Police command has so far not given any official reason for the alleged raid on the house, which according to sources was made this dawn.
Snippets of information picked up by JoyNews indicate that four young men from his household were picked up and sent to the Adabraka Police station.
The raid according to JoyNews sources was necessitated as a result of a complaint to the Police that some stones had been thrown from Lt. Col. Gbevlo Lartey's residence into the yard of the offices of the Electoral Commission, which is nearby.
Lt. Colonel Gbevlo Lartey first hit the headlines late last year when he was arrested together with three others in connection with an alleged coup attempt.
But JOY FM enquiries into the alleged coup plot pointed a fabrication of the allegation.
According to the sources, the informant reportedly confessed that he invented the story implicating Lt Col Gbevlo Lartey and two other serving officers in a plot to overthrow the government.
The Ghana Armed Forces later retired him according to the Armed Forces regulations.
There was some controversy over his retirement.
Lt Col Gbevlo-Lartey was posted to the Armed Forces Staff College and later sent on peacekeeping duties.
Lt. Colonel Gbevlo when contacted by JoyNews confirmed that the Police came to his house at midnight and arrested four of his household but could not tell the reason.
He said the officers who came to the house banged at some windows and doors before arresting the four.
Lt. Col Gbevlo Lartey said he was not at home but was informed of the Police presence when he returned.