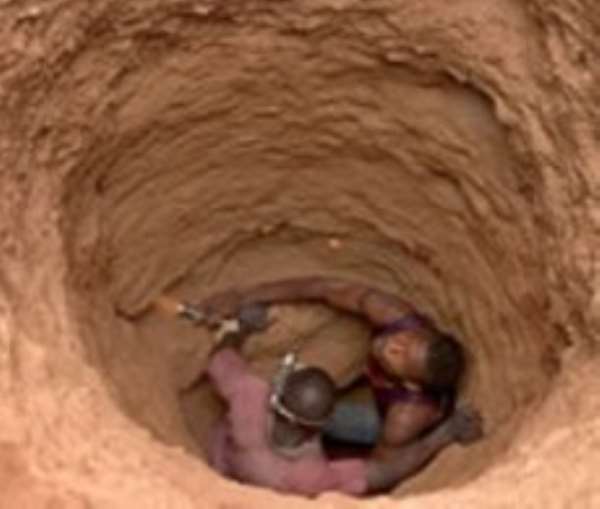 The number of youth believed to be engaging in galamsey in Ghana is unknown, but it is believed to be from 20,000 to 50,000 upon which most of them operate in communities where there are substantial reserves of gold deposits and usually within the environs of the larger mining companies.
Galamsey, which is locally known in Ghana as the illegal mining activity or mechanism to extract gold and other mineral resources is on the rise. People who engage in such act are known to be independent workers from the known commercial mining companies in the country; hence making their ways illegal.
Recent reports indicate that, most of these young people, especially children, doing small scale illegal mining activities have ignored education and decided to engage in such act with the idea of getting "quick money".
According to Ghana Broadcasting Coporation (GBC), about four hundred thousand youth who were involved in illegal mining otherwise known as "Galamsey" are to be engaged in an Alternative Livelihood program to earn them a decent livelihood.
It was revealed in the report that the over hundred thousand youth would be enrolled into the newly established Youth Enterprise Agency (YEA), where they will take up careers in the different modules.
President John Dramani Mahama said this after expressing worry at the alarming rate of illegal mining in the country, adding, when the alternative livelihood programme takes off, there will not be any excuse for the youth to engage in illegal small-scale mining.
This directive from the President will be the best and simple remedy to ensure that the lives of the youth in such mining communities are improved. This will urge them to put an end to the illegal mining and rather take up required careers that will earn them money in the country.
Moreover, negative effects on their lives which include some young men falling into the mining pit resulting in death and suffering from different diseases will be avoided; hence the youth will enjoy healthy living.
Apart from the effects on their lives, the activities of the galamseyers also cause more harm than good in the country by destroying our lands and the water bodies, including the Oti, Birim and Pra Rivers
The directive to enroll all the 400,000 youth who engage in galamsey especially those in the mining communities in the alternative livelihood programme will also help to reduce child labour in the country, improve upon the lives of the youth, protect the natural resources in the country and also promote education among children.