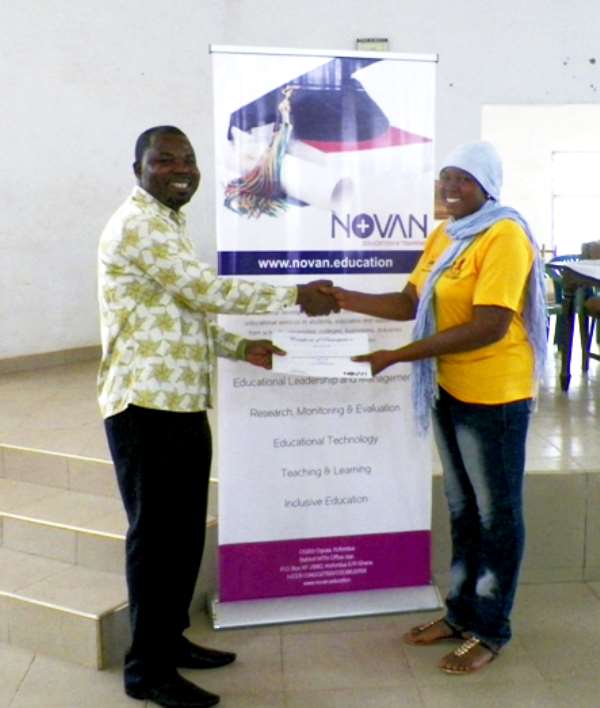 Tutors of Tumu College of Education have received training on how to write academic articles for publication in journals.
This is as a result of the new status accorded all training colleges to become tertiary institutions which required that the tutors write scholarly articles for publications in journals to, as part of other considerations, warrant their promotions.
The training sought to improve their research skills to enable them conduct research and to come out with ideas and facts that would inform developmental decisions in Ghana.
The training, which saw all the 26 tutors in the Tumu College of Education taking part, was resourced by the Novan Education and Training Centre, a school improvement and professional development entity that is based in Koforidua in the Eastern Region.
Speaking to the Ghana News Agency (GNA) after the training, MrMiraculeGavor, the Executive Director of the Novan, said the Centre existed to provide supplemental educational services to students and researchers from schools, universities, colleges of education, businesses, and industries as well as for other private and public agencies.
He said the Novan Education and Training had held similar training for tutors in Accra Training College, University of Ghana (Annex) among other institutions in the country.
MrGavor disclosed that the Novan Centre would soon host an Educators International Research Conference in Accra which would open an opportunity for educators and researchers from schools, universities, colleges, businesses, industries and other private and public agencies to share and discuss their innovative practices and research initiatives that advance education, especially, in Ghana.
He said the Centre was therefore inviting papers from educators, education officers, industry partners, graduate and undergraduate students for poster presentations, workshops, symposia, and innovative showcases, and urged interested persons to take advantage.
MsWassilaMahamud, a participant at the training, expressed excitement about the training, saying it was an eye-opener and that she was very grateful to college authority for the initiative.
She was however of the view that the participants could not have ample time to try their hands on some examples and showcase to the resource persons since the time allotted for the training was not enough.
Wassila prayed for more of such opportunities to keep them abreast with ideas on how to organize their scholarly works and abstracts to raise their confidence level in conducting research to improve education in the country.