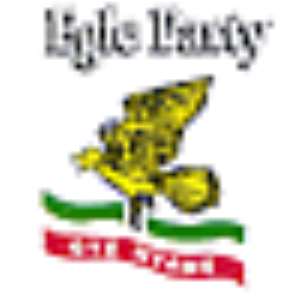 Accra, Sept 4, GNA - The Every Accountable Ghanaian Living Everywhere Party (EGLE) on Saturday, launched its Elections 2004 manifesto.
The manifesto entitled "The New Ghanaian" is the EGLE and the Grand Coalition of political parties' vision, to provide the economic stimulus for transforming Ghana from HIPC to an emerging market economy. Its also focuses on creating wealth and investing in every accountable Ghanaian living everywhere, the protection of the disadvantage and giving hope and protection to the "new born".
The Manifesto was adopted at the party's national delegates convention in Accra, which was attended by five regional delegates, representatives from the National Democratic Congress (NDC), the People's National Convention (PNC) and the Great Consolidated Popular Party (GCPP).
It called for an economic revolution and the injection of a 20-billion-US Dollar package to tackle the country's underdeveloped economic status to bring it to a level of an emerging economy.
Mr Daniel Ofori-Atta, National Chairman, who presented the document, said its objective was to consolidate both the human and commodity resources setting the stage for the creation of an emerging market economy to elevate and sustain economic growth.
It is also aimed at reducing inflationary pressures while ensuring effective implementation of programmes to reduce poverty.
Highlights of the manifesto include redirecting the buy and sell business by turning some of the operators into entrepreneurs in productivity to enable them to get good returns from trading and export. It contained a strategy to meet the new basic world-class quality and service through increased flexibility and continuous short cycle innovations and improvement.
Other features include plans to resolve infrastructure problems, expand the narrow export base, and create a strong private sector to lift the economy onto a higher growth rate in the immediate future and to create the ability to attract foreign capital and to exploit export opportunities.
The EGLE manifesto also focuses on implementing "common sense" economic reforms, auctioning of foreign exchange and liberalising foreign exchange transactions to make it easy to do business in Ghana and harmonised duties and taxes.
Under the document the Exim Bank Guarantee Company would be examined, restructured and capitalised with a re-insurance cover of 20 billion US dollars for 30 years.
Ghana Commercial Bank would be restructured and given the capacity to operate as an off-budget agency whiles a number of government agencies coordinated to act as an intermediary-buying securities agencies.
According to the EGLE, the Ghana Highway Authority would become the Ghana Highway Company; the Feeder Roads Department restructured into a Ghana Feeder Roads Company while the Urban Roads Department would become the National Urban Roads Company.
The Black Star Line, Ghana Airways and Ghana Railway would be re-activated.
Other areas covered by the EGLE manifesto include; the manufacturing sector, transportation science and technology research, taxes and monetary policies; agro-industry and land bank policy, real estate and community housing policy, health, education, farming and food security programme policy, and food processing.
Also covered are the Local government system, which would be restructured and decentralised and an attitude adjustment policy; the poverty syndrome; the huge trade imbalance and sliding currency and boosting domestic industries. 04 Sept 04