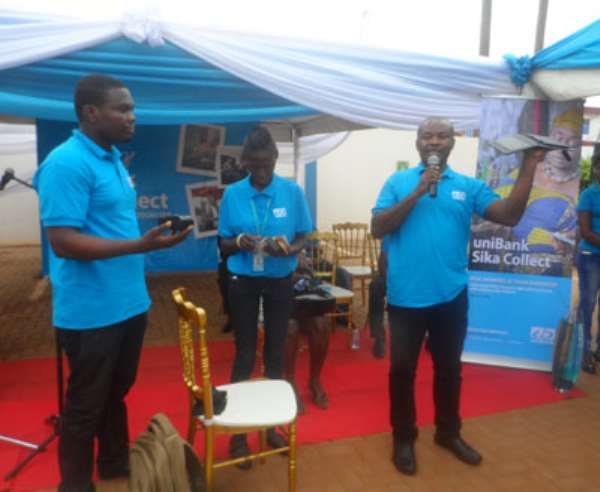 Staff of uniBank demonstrating how the Sika Collect scheme operates at the launch.
UniBank Ghana Limited, a leading financial institution in the country, has launched its mobile banking service dubbed, 'Sika Collect' onto the market.
Speaking at the launch last Thursday at Ashiaman, General Manager in-charge of Operations at uniBank, Clifford Mettle said 'the Sika Collect' product is a new uniBank initiative that demonstrates our growing interest and commitment to improving banking for our cherished customers.'
He said 'this new product seeks to provide our customers with confidential one-on-one banking transactions at their markets, offices and workplaces.'
According to him, under the scheme, mobile staff of uniBank would visit customers at their respective locations and conduct cash and cheque transactions for them.
'All cash and cheques collected from customers by accredited staff of uniBank are expected to be imputed into tablets and simultaneously credited to the clients' accounts,' he noted.
'Thereafter, two receipts will be issued from a printer at the point of transaction by a uniBank staff and the customer will be required to sign both receipts and keep one copy whilst a copy is returned to the bank,' he added.
Touching on security issues, he said confirmation SMS messages shall be sent instantaneously to clients' phones.
Richard Amanpene-Sekyere, Head, Branch Network, in his welcome remarks, pointed out that the introduction of Sika Collect would go a long way to address challenges facing the Small and Medium Enterprises (SMEs) sector in Ghana.

BY Melvin Tarlue
[email protected]