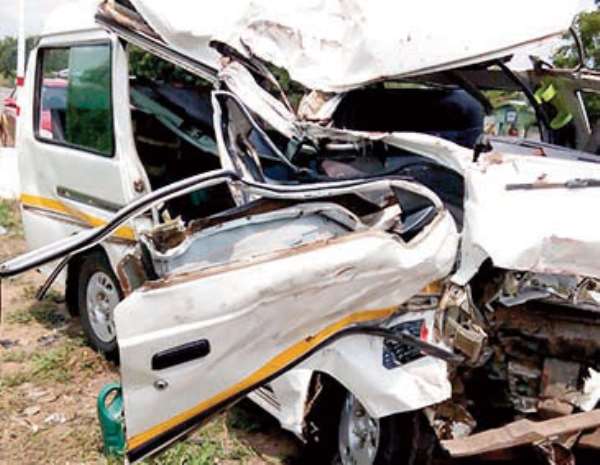 The mangled Hyundai mini bus.
Four passengers met their untimely deaths on the Tema-Akosombo highway when a commercial bus they were travelling on rammed into a stationary tipper truck loaded with sand.
Out of the total number of the dead, three were said to be a nuclear family members travelling from Tema for a visit at Kpong in the Greater Accra Region.
Several other passengers on board a Hyundai mini bus with registration number GT 3248-14 that ran into the Magnus tipper truck – with registration number VR 706-Z – were injured and rushed to the St. Martin de Porres Hospital at Agomanya for medical treatment.
The stationary tipper truck
The lifeless bodies were deposited at the Atua Government Hospital at Akuse for preservation and autopsy.
Assistant Superintendent of Police (ASP) Francis Ackah, Akuse District Police Commander who confirmed the accident to DAILY GUIDE, explained that the accident occurred at about 7:00 pm when the driver of the Tema-bound Hyundai vehicle lost control and ran into the stationary truck parked on the shoulder of the road.
He pointed out that the four persons died on the spot in the mangled vehicle, whiles several other persons who got injured were responding to treatment.
According to him, the police had begun investigations into the incident as a search for the tipper truck driver was also ongoing.
From Vincent Kubi, Tema