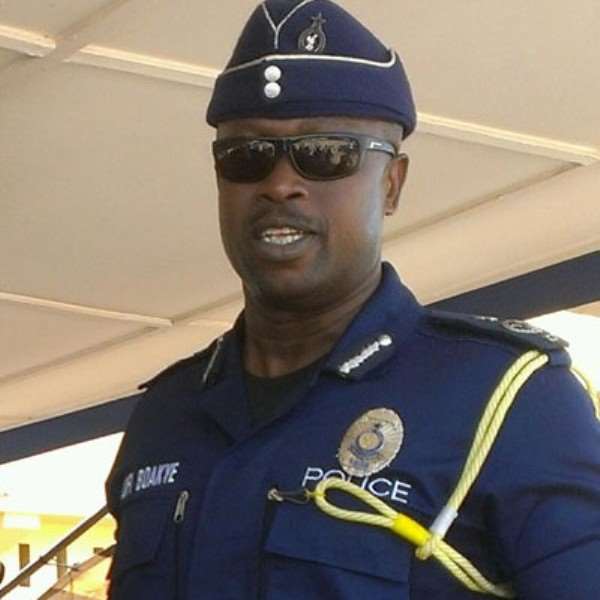 DCOP Kofi Boakye
Kumasi, June 11, GNA - Security in the Denchemuoso-Techiman communities in the Atwima- Techiman District, is expected to improve with the inauguration of a police station which would also serve as the District Headquarters.
Inaugurating the Semi-detached structure at Atwima-Techiman, the Deputy Commissioner of Police (DCOP) Nathan Kofi Boakye, the Ashanti Regional Commander of Police, urged community members to form neighbourhood watch committees to assist the police to stem acts of crime.
He said this will complement police visibility and patrol services, aimed at bringing criminal activities in the communities to the barest minimum and provide conducive environment for law-abiding citizens to live in peace.
The structure has facilities for charge offices, an office for the District commander, the Criminal Investigations Department (CID) and cells.
Mr Peter Anaafi Mensah, the Ashanti Regional Minister, in a speech read on his behalf, said security is critical to development since safe communities boost investor confidence in the society.
He said the provision of security is a shared responsibility and called on all stakeholders to cooperate with the police by providing credible and timely information about criminals for the law to deal with them.
The Regional Minster commended the police for helping to reduce crime incidence in the Region, through their innovative visibility, accessibility and patrol systems on major roads and highways.
He said the challenges of accommodation and logistics will be addressed by the government.
Dr Owusu Afriyie Akoto, the Member of Parliament for Kwadaso Constituency, expressed his contentment at the establishment of the police headquarters and donated four motorbikes to the station.
Nana Antwi Agyei Berempong II, the Chief of Atwima, also thanked the Regional Police Commander, the Member of Parliament and the community for helping to complete the structure and pledged his commitment and support to any initiative that will promote development in the District.
Funds were raised for the purchase of a Toyota Hilux Pick and motorbikes to ensure mobility of the security personnel.
GNA