The causes and consequences of child labour are not unsurmountable. They can be addressed in a manner that is both effective and sustainable. Over the past 15 years, a number of interventions have been implemented by various partners including mandated government ministries, departments and agencies, Workers' organization, employers association, NGOs and other civil society groups including the media. There remains much work to be done but some encouraging progress has been made in addressing the challenge systemically and comprehensively so that the results are sustainable and catalyzing to other areas of national social and economic development.
Progress in Awareness Raising and Social Mobilisation
In the year 2000, not many people heard or knew about child labour. Today, public education on child labour is relatively high as a result of consistent awareness raising activities at all levels in both rural and urban communities. Sebsitisation programmes have been conducted in more than 200 local communities in various districts across the country. Through these educational activities, local people now appreciate the concept of child labour and are able to distinguish it from light work which is acceptable for children, they also understand the negative consequences of child labour to the health education and development of the child. A key aspect of the awareness raising at the community level is the targeting of traditional rulers. Given the strong influence of chiefs, queen mothers and other traditional leaders in local communities, sensitizing them on child labour has ripple effects of the broader community.
The effect of longstanding detrimental socio-cultural norms and practices on children make it such that child labour us seen as a normal thing acceptable by our culture. This perception is minimized as informed traditional leaders who have been well sensitized lead the child labour campaign in their respective communities. Traditional leaders in many areas have also worked with the communities to institute community regulations which proscribe child labour and confer sanctions on perpetuators with full community support. Awareness raising translates into attitudinal change through social mobilization. As people become well informed the move to take action. In many communities Community Child Protection Committees (CCPCs) have been established, this is made of key actors such as assembly persons or unit committee members, teachers, women leaders, child representatives and other opinion shapers in the community.
They undertake community surveillance to monitor areas where children may be working. The CCPCs form a core component of the Ghana Child Labour Monitoring System (GCLMS) being deployed in many areas across the country. CCPCs also undertake informal school inspections and work with teachers in local community schools to enhance school attendance and performance. In some areas, especially cocoa growing communities social mobilization has resulted in the development and implementation of Community Action Plans (CAPs). Through the implementation of CAPs local communities have been self-empowered to develp their areas. For example in many communities in and around Asankragua and Suhum, such as Mfranta, CAPs have resulted in the provision of electricity, health post, educational services such as improved infrastructure and increased teaching and learning materials. Teachers are motivated to teach and children attend school regularly with an enthusiasm that reflects in their performance. Consequently, child labour is gradually becoming a thing of the past and families are appreciating the usefulness of education. As part of the campaign, a network of Social Mobilisation Partners against Child Labour (SOMOPAC) formed under the coordination of the Ghana Journalists Association (GJA) has been formed in the ten regions with over two-hundred journalist trained to inform and educate the public on child labour through their various media platforms, including online and social media stages.
Direct withdrawal of children from child labour and prevention of those at risk
Through interventions implemented by local NGOs and District Assemblies, and funded by development partners like the International Labour Organisation (ILO), United Nations Children's Fund (UNICEF), International Cocoa Initiative (ICI), International Needs-Ghana (IN-G) and World Vision International (WVI) inter alia, many children have been withdrawn from Worst Forms of Child Labour (WFCL). Younger children, usual between five and fifteen years found in child labour are usually removed from the menace and enrolled in school with a full provision of school uniforms, learning materials and in some cases bicycles to ride to school because of the long distances they have to traverse. Older children, etween fifteen and seventeen years are usually enrolled in technical education or Vocational training. In these effort, the Ministries of Employment and Labour Relations, Education, Gender, Children and Social Protection and Local Government and Rural Development have provided growing leadership and coordination to achieve significant results. It is estimated that more than twenty-thousand children have been prevented or withdrawn form Worst Forms of Child Labour as a result of these efforts.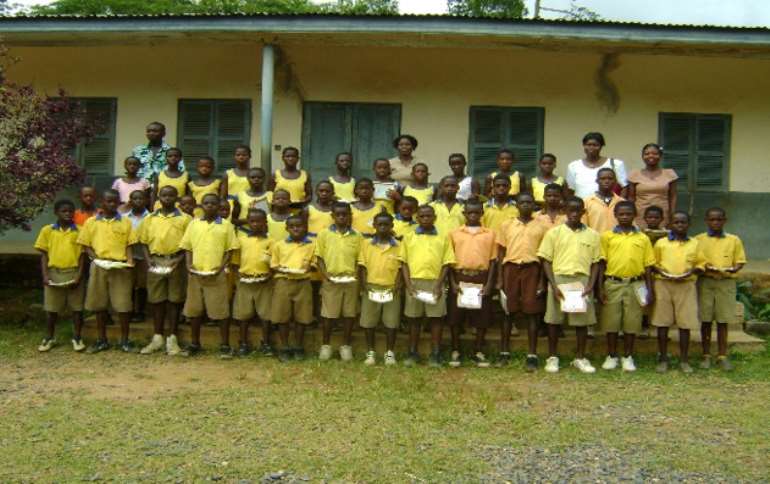 Some children in mining communities around Obuase withdrawn from child labour and provided with educational support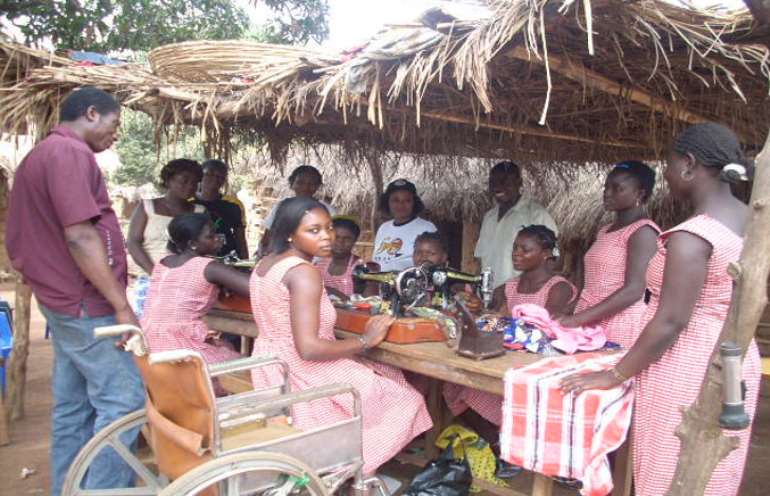 Girls withdrawn from child labour and provided with vocational training opporutnities
Economic Empowerment and Livelihood Support for Vulnerable Families
Poverty is one of the key causes of child labour. Therefore, supporting parents, guardians, care-takers, families and households with economic goods and services is strategic for a sustainable elimination of child labour. Many child labour projects include livelihood empowerment as a key component. As a result, more than two-thousand families were supported under ILO projects in over fifteen districts. According to a report from the ILO Projects, The economic empowerment services included training income generating ventures such as bee keeping, soap-making, palm oil extraction, pastries and confectionaries, trading, grass cutter rearing and poultry.
There were initial and follow up trainings for beneficiaries to start or improve existing businesses, enhance the quality of production, packaging and marketing, as well as business management, basic book-keeping and strengthening cooperatives/groups to make them more viable(including improving their savings habits). Start –up tools were delivered to all 1200 beneficiary families for production. In addition to start up tools, ovens and palm oil processing machines were also provided to beneficiaries into bakery and palm oil processing to enhance technology in production. To promote community-wide approach in the delivery of services, 11 palm oil processing equipment and 7 corn mills have also been provided to 7 communities with arrangements in place to use 50% of the proceeds to support beneficiaries, 25% to support CAPs activities including sponsoring needy children to access higher education and 25% for the management and maintenance of the facility.
40 production centres were also supported with communities contributing internal resources to serve as rallying points and mini-factories for livelihood activities. - To enhance the marketing of beneficiary products, the project collaborated with the District Assemblies to establish 4 marketing outlets as part of efforts to boost sales and promote regular production. The About 1200 beneficiaries across the target districts are in business and producing soap, palm oil, pastries including bread, vegetables, honey, poultry and grass cutter for sale (with some also consumed by the households) while other are in petty trading. 1156 families have received training on the benefits of savings and micro-credit schemes with the same number linked to Microfinance Institutions (MFI) and are saving to enable them access funds to provide the education, health and other needs of their children as well as improve their businesses.
The MFIs continue to follow up to sensitise and encourage families to continue to save. 918 families have benefited from training on basic book-keeping. 976 adult beneficiaries have been registered with the NHIS while non-beneficiaries numbering over 100 have also been registered unto the scheme. About 1074 community members comprising beneficiaries and non-beneficiaries have benefited from health screening services with those having conditions referred to hospitals for further treatment by experts. About 43groups composed of both direct and indirect beneficiaries have been formed and registered with the Department of Cooperatives with their certificates issued to make them viable for their registration before the end of the Project.
The National Functional Literacy Programme has been extended to all 40 target communities with a total of about 1114 community members benefitting. These include both beneficiaries and non-beneficiaries of the project. 40 Local Facilitators were trained by NFED in two separate workshops and the National Functional Literacy Programme extended to all 40 target communities to facilitate the classes. This has contributed to improving the literacy and numeracy skills of adult beneficiaries with replying effects on their businesses and some in the position to support their children in the school work.
By Emmanuel Kwame Mensah, Independent Development Consultant.