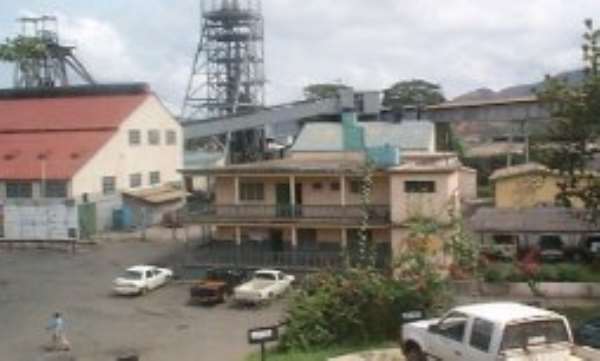 Health, education and compensation problems continue
It's getting late and the road to Tarkwa is much darker than we would like for traveling. Tarkwa is located in the Western Region and is one of Ghana's major mining hubs. Despite some estimates that Ghana's mining sector is worth US$1 billion annually, the road from Takoradi to Tarkwa, the district capital of Wassa West, is the bumpiest road we have ever experienced.
When we finally arrive in Tarkwa after traveling like tortoises, we immediately notice the obvious economic presence in the town. There are branches of several international banks, many hotels, and we have no problem finding a phone booth that works.
Our first visit is to the twin villages of Wangara and Badukrom, 13 kilometres from Tarkwa. We hope to see the impact of mining on various communities.
According to the Chief of Wangara, Nana Kingsley Awudu, the villages are home to more than 1,600 people - mostly subsistence farmers.
There is no school or clinic, no potable water or electricity, and the rate of unemployment is high.
Mining companies Ghanaian Australian Goldfields (GAG), a subsidiary of AngloGold Ashanti, and Goldfields Ghana limited (GGL), a subsidiary of Goldfields South Africa, took over the villagers' farmland as part of their mining concession.
Ghana's Mining and Minerals Law of 1986 states that any land may be acquired or occupied for mining, either by the state or authorized companies.
At a meeting with the local chiefs organized by the NGO Wassa Association of Communities Affected by Mining (WACAM), we are surrounded by what seems to be the entire town. A woman quickly strips off her child's clothing and point out a skin rash. Badukrom's Chief, Nana Hamadu Issake, says that he has recently been losing his vision.
These are among many other health problems these villagers attribute to mining in the area.
The Chief says that these problems were not present before mining began. However, an official with the Environmental Protection Agency (EPA) in Tarkwa, could not confirm whether such problems are a direct result of mining. Naturally occurring iron and manganese in the ground may also contaminate water.
Studies have also found arsenic, which is known to cause rashes, in the region's streams. Gold formation can produce arsenic in the rain, which can then wash into streams and pollute ground water. Unfortunately, since many chemicals degrade in water, it is often difficult for scientists to analyze the root cause of pollution.
We expected villagers to be tending to their farms and children attending school on a typical Monday morning.
But in Badukrom, many adults just hang around, as do the children.
Wangara's Chief and other villagers claim that 80% of their land has been taken over by GAG and GGL. Their relocated farms are too far to walk to, so few have any work to do.
He also says that the community where the children attended school, Old Atoabo, was moved by a mining company and resettled near Tarkwa (now New Atoabo). The children were able to take a shortcut of less than two kilometres, but since mining activities now block this route, the children must travel more than five times that distance. This means higher transport fares, which also contributes to the low rate of school attendance in the village.
Patience Asuapem is an eleven-year-old girl who loves boxing. She is affectionately called 'rebel sister' because of her toughness and strength. She looks cheerful, but says that she stopped schooling two years ago in Class Two.
She was studying at Old Atoabo. Patience wants to go to school to become a teacher and an opinion leader for her community. But her father is dead and her mother cannot pay her school fees because she is not working.
"I don't have anyone to help me realize my dreams," she says. "They are dying slowly."
When we ask residents of Badukrom if the presence of mining companies has benefited them in any way, they are quick to respond.
They begin to shout and wave their hands in anger. "No benefit," says Wangara's Chief. "Ever since GAG and Teberebie (Goldfields), there has not been potable water."
We walk by two toilets clearly labeled 'Donated by GAG,' as well as an incomplete borehole. The lack of a reliable water supply for cleaning purposes has apparently made the toilets a potential source of disease, rather than a benefit to the community. Nearby streams appear to have low water levels for the rainy season.
The chief adds that the lack of essential facilities creates major problems for his people. "There are a lot of problems in this community, if a woman is in labour and has problems, she cannot be saved."
The chief is a victim of this same problem. His brother-in-law died while being carried along the long road to the Tarkwa hospital.
The lack of a nearby clinic, no potable water, and the few vehicles that run the route to the village, has apparently caused several deaths. In Badukrom, five people have reportedly died in three months, while four died in Wangara during the same period.
After speaking with villagers and taking a tour of the area, we decide to head to our second destination, a village called Teberebie. A villager sits waiting for hours for affordable transportation.
It now costs an individual at least ¢10,000 for a taxi to Tarkwa, since the only tro-tro (commercial bus) that commutes between the village and Tarkwa rarely comes. On some days, there are no vehicles at all, so people walk to town.
After waiting for a while, we are advised to walk to the nearest junction since it is apparently close by.
When we see the broken-down and abandoned bus provided by GAG to the village, we fail to see it as a sign that these roads are for walking.
The bus was donated without a plan for how it would be serviced. It was also apparently used for profit, rather than the transportation of children and other villagers.
We have left Badukrom and are heading to the junction that was supposed to be a short walk away. Instead of quickly catching a vehicle to Teberebie, we are actually in for an eight-kilometre journey. We soon begin to understand the transportation problems these people face.
After walking for two hours in the heat, climbing and descending hills as the villagers do, we arrive at the Mile 8 T-junction and finally get a vehicle to Teberebie.
Teberebie is situated southeast of Tarkwa, five kilometres from the district capital. Farmers in the village practice the mixed-crop system of farming (cultivating crops like pineapple, okro, yam and others, on the same piece of land).
During a meeting with the Teberebie Concerned Farmers Association, tensions were high. They say they are still waiting for compensation for their farmlands, which GAG has taken over for the dumping of mining waste.
Previous negotiations between the farmers and GAG outlined the provision of new lands for farming seedlings. The farmers also allege that GAG management breached the memorandum of understanding regarding the payment of compensation.
Apparently, the mining company was supposed to pay farmers compensation according to the head count of crops, which was carried out two years ago. But later, when some of the farmers went to collect their money, they were informed that compensation would now be paid based on acreage.
The farmers show us contracts drawn up by GAG. They show that the initial compensation due to the farmers has been reduced by as much as ¢100 million in some cases, because of readjustments due to the acreage method. The adoption of this method has created a great deal of confusion and frustration.
Some of the farmers also allege that Mr. Martin Dadzie, a Senior Community Relations Officer for GAG in Tarkwa, manhandled them and forced them to sign contracts that did not indicate the amount of payment. Other farmers say that they did not know compensation was based on acreage and therefore refused to collect their money.
Mr. Dadzie is unavailable during our visit to Tarkwa. We are told he is in a meeting during our visit to GAG offices. The next day, he says there was an error with our interview request form. He also indicates that he is now out of town for the week and suggests that someone else can better answer our questions about his work. He also refuses to grant us a telephone interview.
Many other farmers say they are victims of similar problems where compensation is concerned.
"The company is trying to rip us off," says Mr. Paul Ayensu.
Mr. James Amuaful, the Secretary of the Farmers Association, says that the group initially had 53 members, but financial hardship brought that number down to 37. Several farmers were forced to take the lower sums of money offered by GAG.
In addition to compensation problems and alleged bullying by GAG officials, Mr. Amuaful said mining waste is gradually filling up the community. Health problems not present before mining began in the area were also reported.
WACAM says that Badukrom and Teberebie are not the only communities that GAG is treating unfairly, villages like Adisakrom, Mile 8 and Nkwantakrom are also treated poorly. At the same time, indications are that other companies may be failing tso respect the rights of mining communities.
- In two weeks The journey continues with a trip to Prestea, a look at illegal 'galamsey' mining, and the state of mining in Ghana.