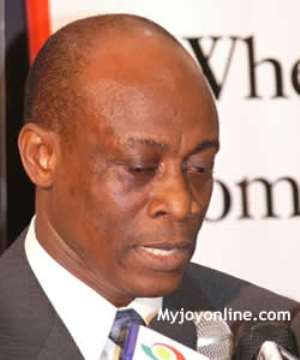 A renowned economist in the country has criticized the credibility of credit rating agencies in the world. Asserting that, they are not to be seeing as 'angels' anymore since the year 2000.
Dr. John Gatsi, a chartered economist expressed that, credit rating agencies have been involved in one or two acts which mal their credibility and integrity. He said, they are only seen as professionals trying to do their best.
In recent times, some international rating agencies have had little bitter giggling with Ghana's Finance Minister on their ratings of the country economy.
Fitchs, Moody and Standards and Poors Rating Agencies have being on a trend of down grading Ghana's economy which the finance minister has challenged them on individual cases.
In March this year, the international rating agency Moody's pushed further down, Ghana's rating, after Finance Minister Seth Terkper announced the crippling effects of the tumbling crude oil prices on Ghana.
Ghana's sovereign foreign-currency rating was lowered one step to B3, six levels below investment grade by Moody's.
"The negative outlook reflects further downside risk to the country's debt dynamics and liquidity pressure in the short-term if the country's policies fail to successfully contain its fiscal deficit, stabilize its currency and address current impediments to higher economic growth," Moody's said.
Also, Ghana's credit rating later part of 2014 was downgraded deeper into "junk" territory by Standard & Poor's on concerns that access to financing will continue to be a struggle even if it enters an International Monetary Fund programme.
S&P highlighted that despite a successful international bond issue earlier this autumn, the country has gross external financing needs of 137 per cent of current account receipts and reserves next year, and therefore relegated Ghana one notch to B-, six levels below investment grade.
The Finance Minister, Seth Terkper in response to the rating, blamed the downgrading of the Ghana's economy by rating agency Standard & Poor's on the "wage bill", "lack of gas supply" and "fallen gold prices" on the international market.
Commenting on the development via his twitter account, Terkper wrote: "Recent reverses in ratings reflect wage & other budget costs; lack of gas supply; and fall in gold/cocoa prices". "Ghana keen to regain its S&P & other Sovereign ratings".
Dr. Gatsi told the ECONOMY TIMES in Kumasi recently after a workshop organized by GIZ and the Swiss Secretariat for Economic Cooperation in collaboration with institute of financial and economic journalists for selected journalists across the country that, they have on several occasions goofed in their ratings to the realization of the whole world.
"There are records throughout the world that shows that, rating agencies have lost credibility."
Before the global financial crisis most 'blue chip' companies were rated above investment grade by these rating agencies, but within a short period of time they collapsed. This means that there was something wrong with their appraisal.
There are some countries that they operate in and they tend to meddle in the politics of those countries and as a result of that, they were able to rate Greece very high but within six months Greece economy collapsed and as a result of that, European countries have decided to setup regulatory commission to regulate the activities of rating agencies because many at times they have their results wrong.
He said, they put pressure on government across the world. So they want to operate under certain conditions. To large extent in some market, financial analysts do not accept their rating because of under estimation.
Dr. Gatsi explained that, one factual argument against these rating agencies is that, they use inexperience people to do the work and write reports for them. So that is why when credit rating agencies release their report we need to look at it critically before we start working with it.
In an article by Crystal Detamore published on Market Integrity Insights (CFA Institute website) titled, "Credit Rating Agencies and Their Credibility Problem" asserted that, "When the dust cleared after the worldwide financial crisis, credit rating agencies (CRAs) emerged in some quarters as Public Enemy No. 1 for masking the risk of mortgage-related securities leading up to meltdown. Although we're concerned that selective amnesia over the financial crisis — and its chief culprits — has settled in, credit rating agencies aren't getting off the hook so easily."
The article published in December 2011, stated that, "A recent survey of CFA charterholders in Canada conducted by the Globe and Mail and CFA Institute found that 71 percent of respondents say the major credit rating agencies — Moody's Investors Service, Standard & Poor's, Fitch Ratings, and DBRS — contributed to the global crisis. And when asked about the credibility of debt ratings provided by CRAs, only 2 percent rated them "very credible."
The survey takers were asked to assess solutions for creating a better system for CRA performance and accountability, and these were the responses: 85 percent said CRAs should disclose their process for evaluation and details about each individual rating; 70 percent supported the creation of an oversight body or SRO for the industry; 58 percent said CRAs should be paid by investors for their ratings (rather than relying on the issuer-paid model that currently dominates the industry).
Additionally, 57 percent said the industry should launch a task force to investigate the system; and 50 percent said CRAs should be defendants in class action lawsuits.
Survey respondents were divided on the issue of removing rules and laws requiring credit ratings: 39 percent were opposed compared with 37 percent supporting such a move.
For their part, regulators on both side of the Atlantic are rethinking regulation of CRAs in response to the crisis and its continuing fallout on the financial markets.
Canadian securities regulators have published for comment a proposal that would introduce securities regulatory oversight of credit rating agencies. The European Union has centralized oversight of credit rating agencies and is mulling over additional reforms, including enhanced competition in an industry dominated by the "big three" (S&P, Moody's, and Fitch).
Meanwhile, the U.S. Dodd–Frank Act contains numerous provisions aimed at improving the oversight and accountability of credit rating agencies, with the SEC leading the charge to wean the industry off its dependence on ratings.
Further to show the loss of credibility of rating agencies, the Federal Reserve policy makers including Chairman Ben S. Bernanke voiced alarm in August 2007 over a loss of investor confidence in ratings companies, warning that the declining credibility could worsen market turmoil.
"There is an information fog" that "is very much associated with the loss of confidence in the credit-rating agencies," Bernanke said at a meeting on Aug. 7, 2007. The firms' "credibility has been shot" and "it is much harder to see that this market will unwind itself in a rather kind and comforting environment," said Kevin Warsh, then a Fed Governor.
The 2007 transcripts of the Federal Open Market Committee, opened a window onto how Fed officials viewed ratings companies during the end of the period that is the focus of a U.S. Justice Department lawsuit against McGraw-Hill Cos. and its Standard & Poor's unit.
The Justice Department filed a civil complaint yesterday in Los Angeles accusing McGraw-Hill and S&P of three types of fraud, the first federal case against a ratings company for grades related to the credit crisis. The U.S. is seeking as much as $5 billion in penalties in punishment for inflated credit ratings that Attorney General Eric Holder said were central to the worst financial crisis since the Great Depression.
In the US, ten rating organizations are designated Nationally Recognized Statistical Rating Organizations: Moody's Corporation; Standard & Poor's Ratings Services (S&P, part of McGraw-Hill Cos., Inc.), Fitch, Inc., Best Company, Inc., DBRS Ltd., Egan-Jones Rating Company, Japan Credit Rating Agency, Ltd., Kroll Bond Rating Agency, Inc. (f/k/a LACE Financial Corp.), Rating and Investment Information, and Realpoint LLC. Moody's and S&P are the most influential and have the most market share. Ratings, particularly those of Moody's and S&P, are built into the global regulatory and market framework.
Ostensibly the U.S. Securities and Exchange Commission (SEC) qualifies the NRSRO designation.
A report by the Tavakoli Structured Finance Inc. on issues and solutions for restoring credibility to the Credit Rating Agencies and rehabilitating the alternative banking system reported that, the SEC's series of failures to check the creation and sale of hundreds of billions of dollars of blatantly misrated securitizations leading up to the financial crisis are beyond the scope of this report.
"It's worth noting, however, that if the Food and Drug Administration failed to check the sale of tainted meat that repeatedly sickened a large segment of the population, we would demand a top to bottom overhaul of the organization and its methods."
In February 2007, the SEC sought comments about the steps it should take to regulate the rating agencies. Janet Tavakoli, President of Tavakoli Structured Finance, Inc. noted that, in his letter to the SEC dated February 13, 2007, I called for the SEC to revoke the rating agencies' designation as Nationally Recognized Statistical Rating Organizations (NRSRO). Ratings for structured products were based on smoke and mirrors.
The reported stated, in upholding the NRSRO designation the SEC and Congress are as irrelevant to the truth as Galileo's inquisitors when they forced him to recant his upholding of Copernicus' idea that the earth moves around the sun. Fundamental truths are not changed by arbitrary legislation like Congress's Credit Agency Reform Act of 2006, meant to improve ratings quality, or by the SEC's regulation.
Tavakoli further expressed that, since the SEC failed to act, I now revoke the NRSRO designation for all credit rating agencies for every class of credit rating with the exception of corporations not engaged in structured finance in a meaningful way.
Specifically, this revocation is for the following rating classes: structured financial products including, but not limited to, structured credit products, asset backed securities, and synthetic securitizations; financial institutions (including brokers or dealers and hedge funds), insurance companies, and sovereigns that have bailed out their banking systems and continue to fund them.