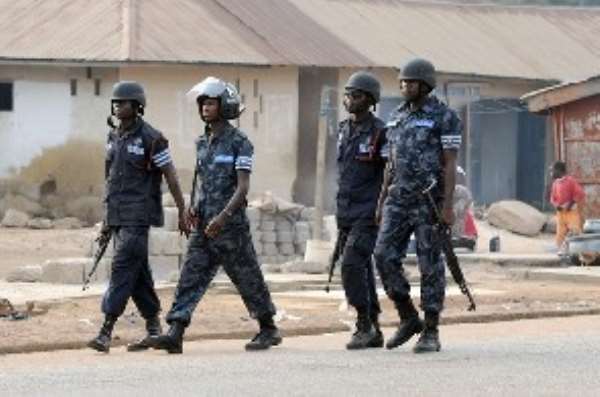 The suspected robbers
Seven persons were yesterday jailed a total of 130 years for robbery by an Accra circuit court.
They are, Michael McCarthy, Richmond Kwadwo Sarpong – both driver's mate; Bright Akaminku aka Rasta, trader; Abubakar Sadik, trader; Abass Baba, auto mechanic; Ibrahim Alhasan, auto mechanic; Abugri Osuman, unemployed and Joe Ofori, trader.
The court, presided over by Justice Francis Obiri, acquitted and discharged Ofori, Yunus Abdul Hamid Mubarak, fashion designer and Ahmed Aminu, driver's mate, who were standing trial for dishonestly receiving booty from the robbery expedition of the eight accused persons.
Sentence
Passing sentences on the seven persons, the trial judge stated that the statement of MaCarthy was a confession to the crime.
He said the court was convinced that the first six convicts agreed to rob, adding that the seventh accused was guilty of conspiracy.
Justice Obiri consequently slapped each of the accused persons 10 years for conspiracy and 20 years each for robbery.
He said robbery was becoming a national issue particularly when it is reported in the media on daily basis.
The high court judge said the convicts did not show mercy to the victims and ought not to be shown mercy.
In the case of Ofori, Justice Obiri jailed him for 10 years for conspiracy.
Wayside Purchases
On Hamid and Aminu, Justice Obiri stated that the two did not know that the phones they were buying were proceeds from robbery.
He posited, 'We live in a country where everything including cars, are purchased from the wayside…if we are to go in that tangent, it will not help anybody.'
In the view of the court, the two had no guilty minds to commit the offence and were accordingly acquitted and discharged.
Background
The seven are said to have on January 5 this year, at Atraco, East Legion in Accra, conspired and robbed one Ebenezer Kofi Odei Bediako, a trader, of his three mobile phones, jewelries and GH¢27,000 cash.
At the initial stages of the trial, Inspector Martin Acheampong said the seven accused persons had been attacking people at Atraco, Zoomlion, and its environs, robbing them of their valuables.
Inspector Acheampong said the complainant and his family were asleep on January 5, 2015 at about 2am, when the seven accused persons broke into their room, attacked them at            gunpoint, subjected them to severe beatings and robbed them of the aforementioned items and the cash.
According to the police officer, the complainant later reported the case to the police and upon intelligence, managed to track the user of one of the stolen mobile phones and arrested Mubarak.
He said when questioned, Mubarak mentioned Aminu as the one who sold the phone to him at GH¢570 and led the police to arrest him.
The prosecutor stated that Mubarak in turn said Michael and Richmond sold the phone and another tablet phone to him at GH¢700, adding that as a result the accused persons were traced to their hideouts and were arrested.
By Jeffrey De-Graft Johnson
[email protected]