NADMO distributes relief items to flood victims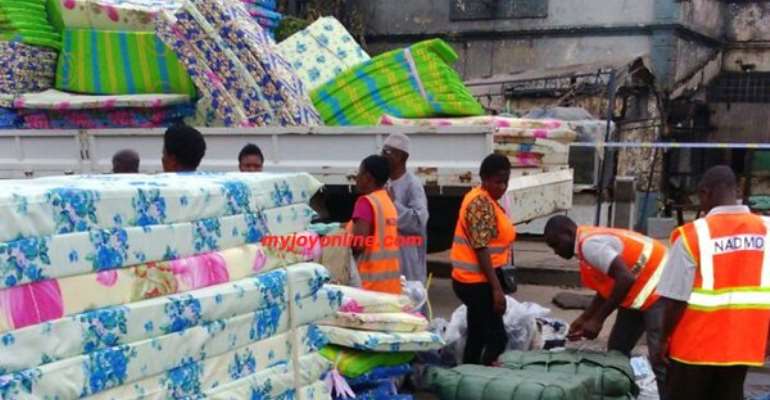 The National Disaster Management Organisation (NADMO) is distributing relief items to victims of Wednesday's flood and fire disaster which left over 150 dead and several hundreds misplaced.
The distribution is taking place at Circle, the epicentre for the disastrous fire incident. As a result of the twin disasters, (Fire and flood) many are now homeless as they try to reconstruct their shattered lives.
NADMO is giving out bowls, blankets, water bottles, mattresses, cups and mosquito nets to a about 150 gathered in need of relief.
A displaced person will have to register to get the items as government tries to document the identities of the victims.
The victims are also in need of clean water, food and medical assistance. They look disheveled and in dire need.
The exercise is expected to continue till Sunday.
According to Communications Minister Omane Boamah, government will resort to using water tankers to provide clean water to victims.
Ghana's perennial flooding problems went many notches higher after severe flooding caused great grief in Accra.
Many who were trying to get home were trapped in traffic. Homes were flooded and unfortunate one lost their lives.
The disaster was further worsened after an explosion at a Goil fuel station shot up the fatalities remarkably. About a 70 more died from the fire. Story by Ghana|Myjoyonline|Edwin Appiah|[email protected]