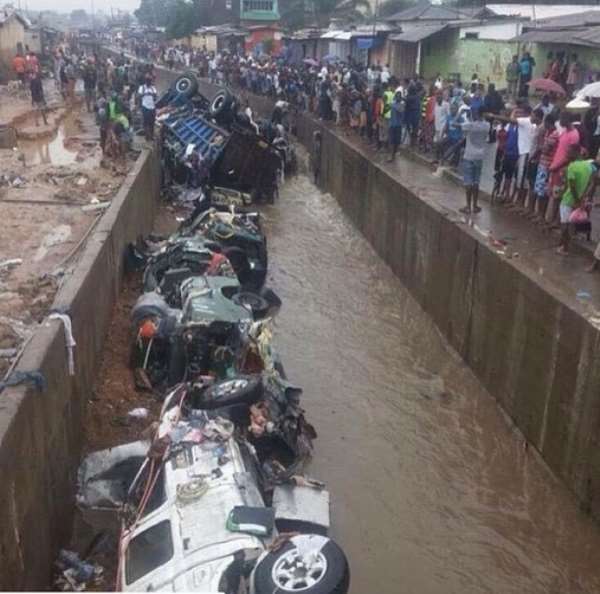 On my own behalf and on behalf of Ghanaians living in the diaspora, I express heartfelt condolences to the Government and people of Ghana, most especially to the victims of the Accra flood and fire that ravaged Accra last night.
We members of "Ghanaians Abroad"(a WhatsApp discussion forum consisting of Ghanaians living outside Ghana who come together to dialogue, interact and discuss issues concerning Ghana and how to be can be of assistance) are devastated by the news and the preventable loss of life and property.
The floods are perennial occurrence and it appears we only care when the floods have come and once they are gone we seems to forget its effects, devastation and consequences.
We are humbly appealing to our leaders to work to prevent future occurrence of the perennial flooding.
Among other measures we recommend the following:
Improve/provide proper drainage system throughout Accra
Enforce building codes stringently
Demolish all building in waterways
Provide litters bins at vantage points throughout Accra and
Enforce the law against public littering by slapping offenders with hefty fines.
I suppose the response would not be "there is no money" because the loss of life and property besides loss of productivity far outweighs any investment to prevent this kind of catastrophe in the future.
As a response to this catastrophe, we contributors to Ghanaians Abroad forums have set up a "Gofundme" page to raise funds in support of the most severely affected communities.
To support this cause please go to:
http://www.gofundme.com/accrafloodvictims
Your donations are highly appreciated. 100% of all donations would go to support the flood victims and updates would be given regularly on the "Gofundme" page.
Thanks for your support!
Desire L. Ankah, CFE
Convener,
"Ghanaians Abroad" Forum