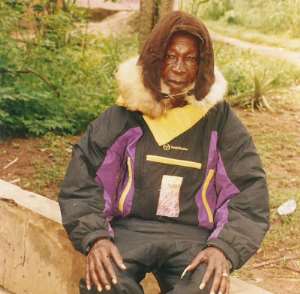 James Adampa
A 76-years-old powerful and dreaded spiritualist, Nana James Adampa has threatened to use juju to retrieve six goats and a sheep which were stolen from his house recently.
Speaking to DAILY GUIDE in an exclusive interview, Nana Adampa said if the person who stole his goats and sheep fails to bring them back he will use the spiritual powers at his disposal to get them back.
According to Nana Adampa, the goats and sheep were given to him by some persons he cured and he decided to lock them in his pen only to find out the following morning that somebody had stolen them.
He said much as he could make the thief mad or kill him with his juju, he has given the thief the opportunity to bring the animals back for his own safety.
Nana Adampa said as a spiritualist he doesn't collect money from his clients because the sprits he worships have warned him not to do that.
However, he said if anyone apart from him takes any of the gifts without his concern, the spirits will ruthlessly deal with the person if he appeals to them to do so on his behalf.
It will be recalled that last year DAILY GUIDE carried a story in which the same Nana Adampa cured a 35-year-old lady who was born without breasts.
After the publication, this reporter received several calls from ladies who had similar problems.
When DAILY GUIDE visited the house of Nana Adampa recently, clients, particularly women had lined up in his house to receive treatment of one ailment or the other.
In an exclusive interview with the spiritualist, he told DAILY GUIDE that he inherited the act of curing ladies without breast from his late father who also was a spiritualist.  He said as a child, his father used to send him to collect herbs from the bush and so by the time his father died he had gotten experience in the act and decided to use same herbs to cure people.
FROM Eric Bawah, Tanoso