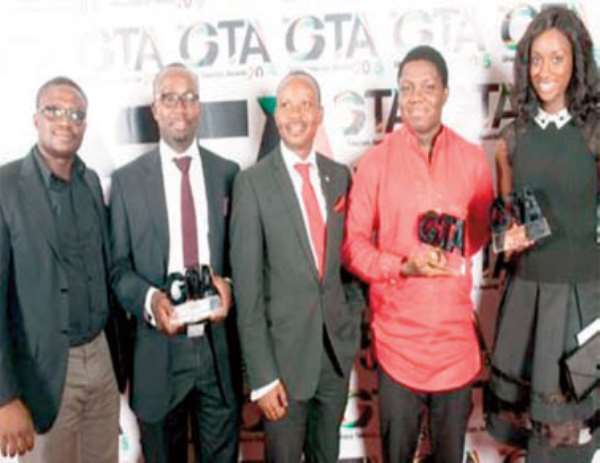 Some staff of Vodafone displaying the awards
Vodafone Ghana has been adjudged 'Mobile Broadband Provider of the Year' at the fifth edition of the Ghana Telecom Awards organized by the Mobile World Magazine.
The award directly affirms a current independent research by global consulting firm P3 Communications, which named Vodafone as the best network in voice clarity and 3G internet speed in Ghana.
Over the years, Vodafone has spent over US$700m on its network infrastructure to create a robust system which delivers the fastest 3G internet speed both with downloads and uploads.
The Ghana Telecom Awards also named Vodafone as 'Telecom Wholesale Company of the Year' and 'Telecom Business of the Year'.
Commenting on the awards, Haris Broumidis, Chief Executive Officer (CEO) of Vodafone Ghana said: 'What we were able to achieve throughout 2014, despite the macroeconomic challenges, is truly satisfying. Our commitment to providing unmatched experience for our customers has never been in doubt and the awards today give a clear evidence of the hard work we have put in so far.
'We are also conscious of the fact that the real measure of our resilience will be how we maintain consistency - something we will continue to do.'
Since entering Ghana's telecoms sector in 2008, Vodafone has consistently maintained the highest standard of network quality for its customers.
It has also been at the forefront of innovation and creativity in the industry.