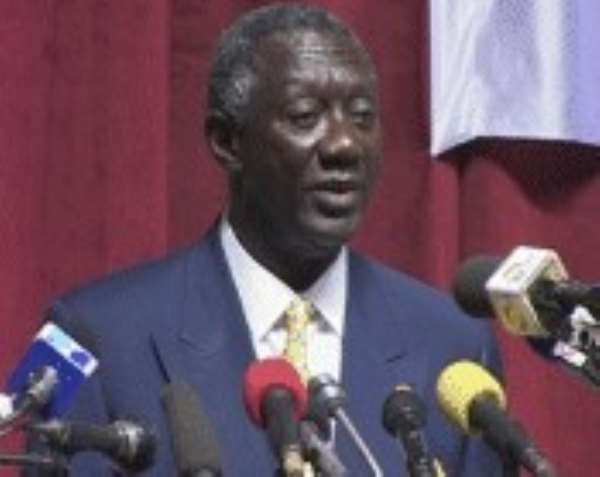 ... if re-elected Koforidua, Aug 29, GNA - President John Agyekum Kufuor has said his administration would continue to uphold good governance and the security of the nation if re-elected. He said the five priority areas his government had chosen to implement were laying the foundation for national progress that must be sustained for the benefit of posterity. President Kufuor said this when he paid a courtesy call on the Omanhene of the New Juaben Traditional Area, Daasebre Dr Oti Boateng, at Koforidua on Saturday on the first day of his four-day official tour of the Eastern Region. He mentioned the priority sectors as provision of social services, infrastructure, rule of law, private sector development and good governance and said what had so far been achieved within the three-and-half years testified to this. On the HIPC initiative, the President said the country was able to reach the "Completion Point" within a record time and would benefit from debt cancellations of about two billion dollars over the next 20 years at 100 million dollars annually.
''Accessing the HIPC does not mean an end to borrowing but what is important for the country is to utilize any amount borrowed to provide infrastructure in order to repay the debt on a sustainable basis.'' President Kufuor reaffirmed his government's respect for chieftaincy and recognized the significant roles of traditional rulers in the nation's development.
He said the NPP would conduct its electioneering campaign peacefully.
Daasebre Oti Boateng noted with satisfaction efforts by the government to find a lasting solution to the perennial water problem facing the municipality and said this would promote socio-economic development of the area.
He called on political parties to conduct their campaigns without violence and must concentrate on the content of their manifestos to convince the electorate.
Daasebre Oti Boateng appealed to President Kufuor to ensure that as the party in power and having the responsibility to maintain the peace being enjoyed in the country, NPP leaders and supporters would exercise restraint even in face of any provocation from opponents.
The queen mother of the area, Nana Yaa Daani, on behalf of the chiefs and people presented President Kufuor with a stool to mark his first official visit to the area.