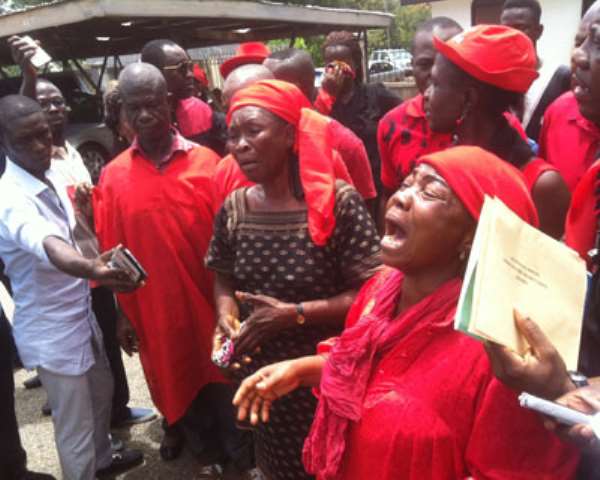 The old women weeping during the demonstration
There were emotional scenes when some old women traders at the Kejetia Bus Terminal burst into uncontrollable tears at the Regional Coordinating Council (RCC) in Kumasi, where angry demonstrators had gathered to present a petition on Wednesday.
The traders had locked their stores to hit the streets in their numbers to demonstrate against what they termed as 'bad treatment and total neglect' by the Kojo Bonsu-led Kumasi Metropolitan Assembly (KMA) administration, regarding the reconstruction of the Kejetia Bus Terminal.
The angry traders, clad in red attire and chanting war songs to show their seriousness, particularly complained bitterly about lack of respect and total neglect by the KMA in the relocation process of people who trade at the ancient terminal.
A scene from the demonstration
The demonstrators, who held placards that had insulting inscriptions directed at Kojo Bonsu, caused massive vehicular traffic in the city.
They later went to the RCC to present a six-point petition to the Regional Minister for onward presentation to President Mahama to intervene on their behalf, when the old ladies caused a stir by weeping uncontrollably.
The leadership of the Kejetia Traders Association (KTA) at a point had to openly console the old ladies before the presentation could take place.
Seventy-year-old Madam Serwah Bonsu said the decision of the KMA to eject the traders from Kejetia within a short period, would collapse her business, which is her only source of livelihood 'and it will also adversely affect the education of my child who is in the training college.'
Obaa Yaa, 65, lambasted Kojo Bonsu for being insensitive to the plight of the traders, accusing the KMA of not considering the poor traders in their plans with regard to the relocation plan.
In the petition, which was authored by Andrews Kwofie, PRO of KTA, the traders accused the KMA of not going by the roadmap agreed upon among the assembly, the traders and the then Ashanti Regional Minister, Eric Opoku, regarding the registration of the traders.
Osei Poku, Director of Administration, RCC, who received the petition on behalf of the Regional Minister, Anarfi Mensah, commended the traders for embarking on a peaceful demonstration, assuring them that their grievances would be forwarded to the president.
FROM I.F. Joe Awuah Jnr., Kumasi
CAPTION: The old women weeping during the demonstration