Key media representatives visited two projects in the Ashanti region last week to ascertain the extent of work being funded by the United States Agency for International Development (USAID through the Alliance for a Green Revolution in Africa (AGRA) to promote production and dissemination of high-quality seeds of maize, soybean, cassava, and yam to smallholder farmers in that part of the country.
Both projects, under USAID's Scaling Seeds and Technologies Partnership (SSTP) aim to improve the productivity, farm incomes, and the general livelihoods of smallholder farmers, particularly women and the youth − by addressing the low yield challenges which characterize agricultural productivity in that part of the country. Both projects cost over $400,000, and provide employment to over 130 people directly, and over 600 people indirectly.
By helping smallholder farmers in Ghana access improved seeds and complementary technologies, the SSTP program is helping boost agricultural productivity, food security, and economic growth to benefit rural poor farmers and their families. Pee Farms and Josma Agro-Industries are being supported by USAID to deliver this mandate.
Alhaji Issifou Pangabu, the Project Manager, who doubles as the Chief Executive Officer of Pee Farms, disclosed to the media that the USAID-funded project is helping upscale improved seed varieties to help farmers increase their yields ─ number of bags per acre. The project is being funded to cultivate both seed and grain maize, and currently provides permanent employment to sixty people, and works with several out-growers on a total of 600 acres. "I intend to produce and sell 10,000 mini bags of both hybrid and open pollinated variety (OPV) maize this year," Alhaji Pangabu told the media.
Increasing farmers' access to improve and disease-resistant cassava and yam cuttings (seed) for food security and poverty alleviation in the Mampong municipality is the mandate of Josma Agro-industries, which is managed by Mrs. Janet Gyimah-Kessie. The project targets to cultivate 46 hectares to produce 7.2 million seeds of improved cassava, and 500,000 mini sets of yams to benefit 12,000 farmers directly, and impact 64,000 rural poor people.
So far, 40 hectares of 10 different varieties have been cultivated and 4.2 million improved cassava varieties supplied to 1,260 farmers in the Mampong Municipal, Sekyere Central, and EjuraSekyeredumasi districts. Over 1,500 farmers have also been trained so far on good agronomic practices.
The project is also solving market-related challenges through its processing plant which has currently employed and trained 60 people in cassava processing. Mrs. Janet Gyimah-Kessie told the media that apart from the unreliable rainfall pattern, there is also the challenge of markets for farmers' produce as well as high labour costs.
Managers of both projects have extensive experience in agricultural practice. Mrs. Janet Gyimah-Kessie was adjudged National Best Cassava Farmer in 2009, while Alhaji IssifouPangabu was Ashanti regional Best Farmer in 1991, National Best Farmer for large-scale maize in 2001, and largest producer in soybean in the Northern Region.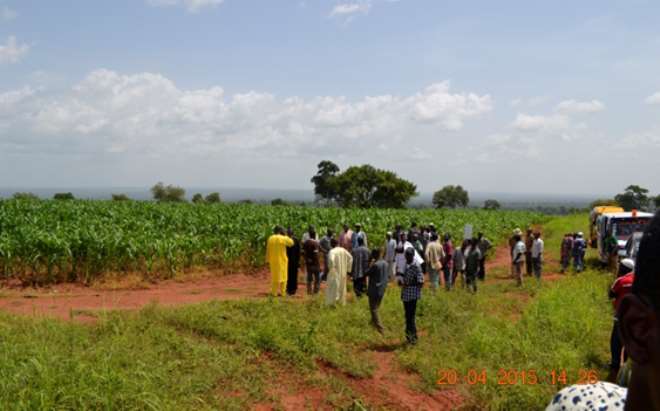 Alhaji Issifou Pangabu At His Farm With Reporters And Out-Growers