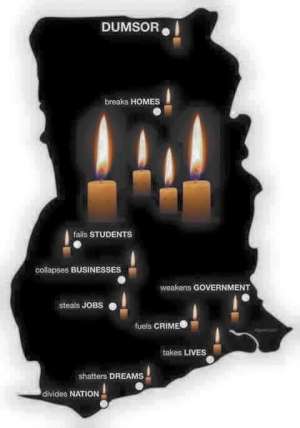 My compatriots, see how much time, money and energy in our motherland have been wasted on scattering something as simple as a protest march dubbed 'vigil'? After diverting as much of our motherland's money, which comes from us compatriots, they the congress people thought it fit to spend part of the crumbs in challenging our birth right to protest their thieving ways which have plunged the motherland into this no-one-knows-when-it-will-end dum darkness.
The amateurs tried pushing my compatriots, fairly harmless celebrities, to the wall. They adopted fascist tactics to deprive my compatriots the right to light. Fear and panic, blackmail, and intimidation were all used to silence my compatriots in protesting the lack of light which should be in abundance. We have the capacity to produce more than enough light. What we lack is the leadership to manage and harness those systems to provide the light.
With those who have been insisting that they will fix the electricity shortage by pooh poohing any managing approach that would fix the problem, we are stuck without adequate electricity supply. What is broken gets fixed with effective management skills. Sound planning and results-oriented implementation of plans fix problems.
It is therefore wishful thinking to assume anything can be fixed without effective management capacity. To attempt to fix whatever is broken without managerial knowhow is to retrograde and reverse that system into an inoperable and dysfunctional state, as we are currently experiencing with electricity supply.
Silencing, aggressively used to cow compatriots, persisted in their dark days of rule from December 31, 1981 to January 7, 1993. Substantial remnants of it extended to January 7, 2001. Not surprisingly, a darkness propagated curfew was an adjunct to the darkness. Hardly surprising then darkness has returned and they are looking for excuses to silence again in darkness.
Across cultures and chieftaincy systems, accompanied by gods or deities, these institutions seek to improve the living standards of their people. They visit the negative on the people when citizens have strayed from the right for their own good and therefore need to be punished to redirect unto the path to development and prosperity.
Just as I, and other chiefs like me, have ancestors (nananom nsamanfo), my Ga in-laws, friends and even foes have their shikwεlɔi whose wotsemεi oshisa they invoke for assistance and support in their quest for wellbeing for their people. The wulɔmɔi draw heavily on the wotsemεi oshisa in their counselling of the mantsε and manyε to lead their people to prosperity.
Abɔdwesε's cow dung approach is not improving the dirt and filth situation. He is building skyscrapers while down on the ground the unmanaged waterways are filled with material that emits stench to make breathing uneasy. Next to the villagio scrapers is the space shamefully with overgrown grass which was chosen as the venue for a vigil assembly. One would have thought they would quickly organise and clear the weeds to show some responsibility. No; congress does not manage things that way. They want to fix the broken without managing; and so nothing gets fixed because it is effective management that fixes the broken.
As I drove on the N6 Highway, through the Tetteh Quarshie Interchange, I was shocked to see that both sides of the road had overgrown weeds. The pedestrian restraining railings were covered by tall, tall grass. What eventually turned out to be the Vigil converging ground was unkempt, although that same spot used to be well kept, almost in manicured condition, in the days before congress. A mayor cannot ensure weeds are cleared from that prominent part of the city. Yet, he thinks he can stop law-abiding citizens from gathering there.
If Abɔdwesε wants to develop millennially looking up in the skies, he is advised to change tactics because you cannot look down at the same time as you are looking up. You can be trapped either by tripping, walking into an obstacle or fall into a hole in the ground if you just keep looking up only all the time.
'Generators don't make noise,' indeed. If Ataa NyomgmÉ" will excuse generator noise because it benefits man bii (children of the land), why won't same excuse vigil noise which seeks justice as manifested in access to electricity for the same children? It is the down where the dirt and filth that is to be cleared can be found. If the down continues to exist in its appalling conditions, it would the up after all the scrapers have been erected.
'Vigil' blues have come to pass. Having begun with to vigil or not to vigil, it landed gloriously as vigil accomplished. Verily, many more can be expected for as long as dumsor the darkness persists.
By Kwasi Ansu-Kyeremeh