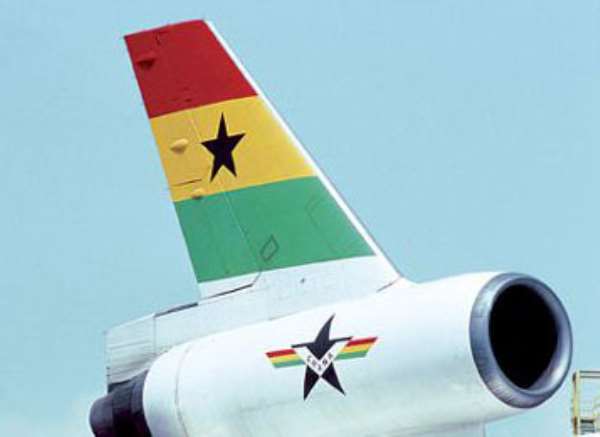 Ghana International Airline (GIA), a United States based consortium, has finally received the nod as the strategic partner of the country's distressed airline, Ghana Airways, government sources have said.
Under the terms, the government owns 70 per cent stake with the remaining 30 per cent going to the Utah-based consortium.
The GIA bid was considered the most favourable of three other, short-listed companies, including the KLM Group and the Ghana Air Partners.
The country's troubled airline has, over the past months been inundated with a barrage of problems, including a debt of more than $162 million and the seizure of its licence to fly to the United States for flying unworthy aircraft.Many of its passengers had been left stranded on its major routes in Europe and the US over the last month, a situation which has further dampened the spirit of its customers and dented the image of the country.
According to the sources, GIA would inject a capital of US $55 million into the operations of the airline, bring in management expertise, and as well as provide a number of aircraft for its operations.
In a letter of intent, the GIA has been given an exclusivity period of 90 days, during which it would have to organise itself to partner with the government in the management of Ghana Airways, the source said.
In the meantime, the source said Ghana Airways needed US $7 million to operate within the period of exclusivity to automate its systems, lease aircraft and pay its staff for the next three months. However, GIA has agreed to invest a risk capital of US $2.1 million during the exclusivity period and the government is expected to provide the remaining US $4.9 million for the airline to be operational within the 90-day period,the sources said.
The sources further explained that the other airlines were more interested in providing management consultancy service for Ghana Airways, adding that "it is not what is needed at this particular moment".
The source said that currently what the government needed to revamp the airline was a partner who would be ready to take risk in its management.