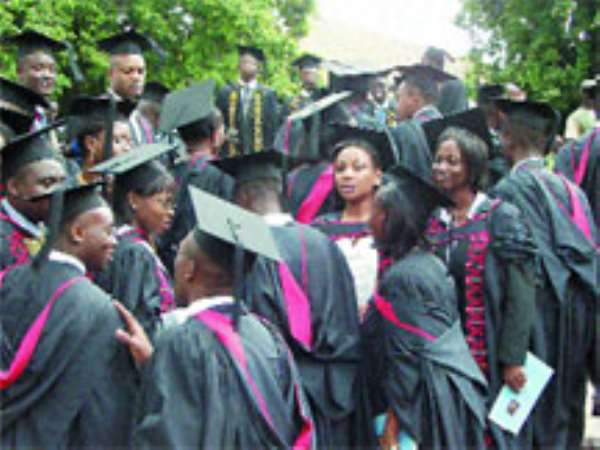 Thousands of demonstrators made up of students from the country's public universities are expected to besiege the seat of government, the Castle, Osu, to seek the intervention of President J. A. Kufuor in getting the university fees for the present academic year reduced.
Student leaders from the five universities contend that the 100% increase in the Residential Facility User Fee (RFUF) and the almost 30% increase in the Academic Facility User Fee (AFUF) are unacceptable since, according to them, there had not been any significant changes in the state of academic and residential facilities to justify the increases.
At the moment, a continuing undergraduate student offering the humanities at the University of Ghana, Legon, for instance pays a total of ¢1,550,000. This includes AFUF, a computer fee and other approved student service charges.
In addition such a student pays a hall affiliation fee of ¢100,000 in the case of non-residential students and ¢640,000 for residential students. Indeed apart from these fees there are others like JCR dues and petty charges at the various departments during departmental registration.
Student leaders are, therefore, of the opinion that the current fees were just unbearable and that there was the urgent need for the government to intervene to ensure a smooth take off of the 2004/2005 academic year.
Speaking to The Chronicle yesterday, a member of the ad-hoc committee set up by the National Union of Ghana Students (NUGS) to plan the demonstration, Bernard O. Baah, said that so far there was nothing the students could do to press home their demand than to resort to a peaceful demonstration.
He disclosed that students from the other campuses were expected to arrive in Accra early Monday morning to join their colleagues at Legon, "to pour onto the streets" ending at the Castle where they hope to make their demands known to the President.
" In fact, we are not saying we would not pay fees but what we are saying is that we can't just afford to pay the current fees. Again one thing that must be clear to every well- meaning Ghanaian is that if we agree for these unexpected increases to occur, then only the children of rich people will be in our universities in a few years to come," Baah said.
But a number of students at the University of Ghana whose views were sought on the relevance or otherwise of the intended demonstration thought that it had no basis because to them, the current fee was reasonable. Others said such an action would have no impact since almost all students had already paid the fees.
" Demonstration for what? We have already paid the fee and they are now asking us to go on demonstration. I think it is going to be a wasted effort and they should not do anything to disrupt the smooth start of the academic calendar," a second year student, Price Oduro told The Chronicle.