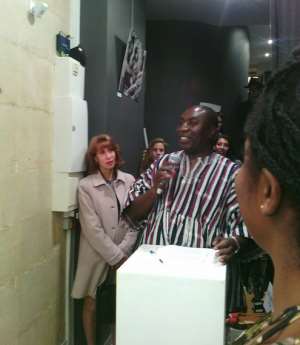 Hon. Osei Mensah Addressed the Press
THURSDAY, 19h00, MAY 21st 2015
CEO Nelly Wanji
Executives of Moonlook
Members of the Press,
Distinguished Ladies and Gentleman,
Good Evening to you.
For those of who do not know my name yet, I am Michael Osei Mensah and I serve as President of the Federation of Ghanaian Diaspora in Europe FEGHADE and the Ghanaian Community in France Council(GHACIF).
Not only is it an honour to have been asked to give this short speech this evening, it is also a pleasure to see Africa being represented through Art and Fashion in the heart of Paris.
From what I have seen already, long gone are the stereotypes of African design and we welcome this new found creativity.
There is a great proverb from the Ashanti tribe of Ghana which says :
)k)t) nwo anoma. 'When you follow in the path of your father, you learn to walk like him. ~
Not only are we walking like are forefathers, we are now learning to run.
Run businesses, develop our communities, and bring Africa to the table with our rich culture, spirit and energy.
This is what I see here this evening at the MoonLook boutique. Ms Wandji and her team have created a direct exchange and dialogue from the African Continent.
I must highly note and commend the designers and their craftmanship and wish them all the very best in this new market.
As President of GHACIF and FEGHADE(a Continental Organisation), I hope to develop worldwide new opportunities with groups like Moonlook for creativity and sustainability, within the Ghanaian Communities in Europe and beyond.
We must continue to build together and to recognise talent from our Motherlands. This can only happen with the support of you and the press, today. Meeting the designers, meeting the creators of MoonLook, asking questions, being inspired by the ethics and then going forth and spreading the word of this enchanting concept that MoonLook has developed !
I must thank you all for being in attendance, and I wish you all an inspired evening and hope you shall enjoy experiencing a piece of Africa here in Paris tonight !
Thank you for your precious attention.
A big Success to Moonlook!!!!