I am heartbroken over Adams Mahama's death - Nana Addo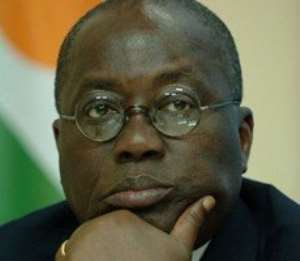 Flagbearer of the New Patriotic Party Nana Akufo-Addo says the tragic death of the party's Upper East Regional chairman breaks his heart.
"I am heartbroken, we knew each other for a very long time. He is a very good friend of mine and was a very strong aide to the late vice president Alhaji Aliu Mahama.
The chairman, Adams Mahama died Thursday morning after he was attacked and 'showered' with acid by some assailants while he drove home from work Wednesday night.
He was to be transferred from the Bolgatanga Regional Hospital to Accra for specialized medical attention before he passed.
Nana Akufo-Addo condemned the attack on the late chairman and said the situation was a "sad day for all of us in the NPP".
He advised that members of the party to stay calm and "build solidarity with each other. Let's just be very calm and responsible and see what happens.
"The matter is in the hands of the police we should allow them freedom to carry out their duties", he added.
He extended condolences to the late chairman's wife and family and prayed for "the Almighty God to give them the strength to bear this".
Nana Akufo-Addo who is currently on a tour of Europe says he will cut short his trip in order to "say goodbye to our fallen colleague".
Younger brother of the party's Chairman Paul Afoko has been fingered in the attack.
An aide to the deceased who took him to the hospital after the attack said the chairman mentioned Gregory Afoko as one of the attackers.
Some agitated youth in the Upper East region on hearing the news of the chairman's death have vandalized a car conveying second regional vice chairman of the party.
The party's Director of Communications Nana Akomea has asked communicators of the party to refrain from making speculative comments in the media about the chairman's tragic death.
Currently, supporters of the opposition New Patriotic Party (NPP) are amassing at the party headquarters ostensibly to confront party Chairman Paul Afoko .