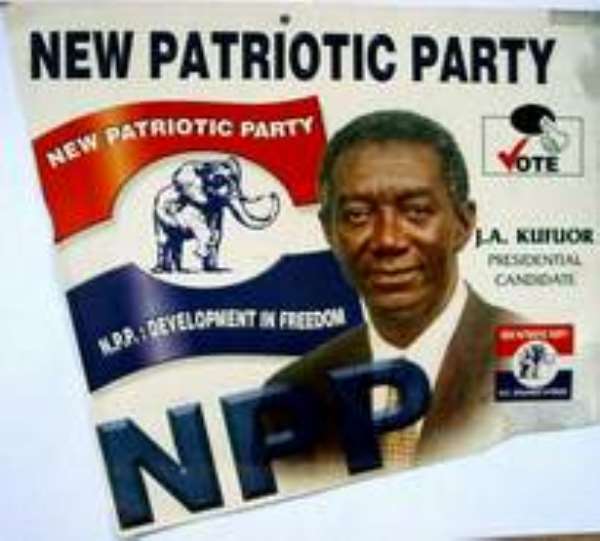 KWEKU MUSAH, 27, and a physically challenged New Patriotic Party (NPP) activist of the Cape-Coast Constituency, in the early hours of Sunday was severely assaulted by two unidentified assailants who injured him in the head.
Narrating his ordeal to The Chronicle on Monday, Kweku Musah, a known NPP activist who developed the slogan "The whole day" for the party during the 2000 election said he was on his way to organize a keep fit exercise which was purported to be embarked upon by the youth in protest to unfair treatment meted out to Mr. Godwin Edwin Buckman by some ministers of state who campaigned openly in favour of the incumbent Member of Parliament, Ms Christine Churcher, during the primary.
"The Whole Day", as he is known in the municipality, continued that on his way, two men confronted him and asked why in spite of the generosity of Ms Churcher towards him, he had embarked on image damaging against her.
As a result, there was a struggle between him and his assailants. In the process, one of them hit his head with a club that opened a deep cut, sending him into coma.
The assailants then fled, leaving Musah to his fate. It was a Good Samaritan who took the victim to the Regional Hospital where he was treated and discharged the following day.
This unfortunate event has raised the tempo between the supporters of the MP and the vanquished Buckman aas the assault on Musah has become a topical issue in the municipality.
He has since reported the case to the police, who are investigating it.
The young activist had played major role in the winning spree of Ms Churcher during the 1996 and 2000 elections that led to the defeat of Mr. Vallis Achianu and Lawyer Ebo Barton Odro, both NDC parliamentary candidates, in fierce battles for the Cape-Coast seat.
His skill in organizing the youth for political campaign was second to none despite his frailty.
His love for the party resulted in creating a chasm between him and his parents who are typically NDC sympathizers.
What remained sad was that Musah had been left to his fate since the incident occurred as the man who sent him to the hospital had been worrying him, demanding back ¢160,000 he had paid as hospital bill.
Unable to raise funds to pay back his debt, Musah had become disappointed at the turn of events and swore not to mount any political platform again.
Meanwhile, the Deputy Central Regional Secretary of the NPP, Mr. Paul Annan has condemned the attack, describing the act as shameful to the party.
He said if the hierarchy did not resolve this rancour and bickering that had characterized the party after the primary early, the possibility of losing the seat to the NDC stared in the face.
Mr. Annan has therefore called on the supporters of the two factions to exercise restraint, explaining that their actions were seriously denting the image of the party.