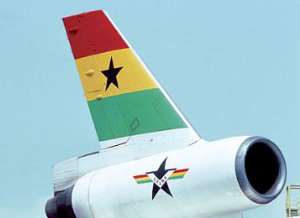 PASSENGERS CAN'T CLEAR LUGGAGE In the midst of rather embarrassing developments of Ghana Airways, latest information available has it that some passengers of the airline who travelled to Accra from Gatwick Airport some two weeks ago cannot clear their luggage. The reason? A cheque for £27,000 that was paid to a cargo agent, DAAS Air in London being the cost of transporting 10,000 kilos of luggage to Accra could not be cleared at the bank on which it was drawn. The development resulted in another tirade of insults directed at the management of the airline from some of the irate passengers who have been without their luggage since they arrived in the country about two weeks ago. Angry passengers vented their frustration on some Ghanair staff who cared to listen by issuing the now familiar threats of suing the airline amidst other expletives because after a long wait at the Accra International Airport last Tuesday they learnt that the local agent of DAAS Air has refused to release their luggage to Ghanair because of the dud cheques.
Investigations by reporters revealed that following the recent turbulence that hit Ghanair's operations, passengers from the UK were directed to Gatwick Airport to board a leased Boeing 767-200 from Air Zimbabwe.
As has become standard practice at Ghanair, the airline's officials failed to realise that being a smaller model of the Boeing range, the leased 767-200, apart from being able to carry some 196 passengers also has a smaller baggage compartment. Thus, close to half of the luggage of the already frustrated passengers who had to contend with days of waiting at Heathrow to be ferried to Accra could not accompany the owners.
Checks at Ghanair revealed further that about 5,000 kilos of the luggage was later brought to Accra by DAAS Air and claimed by some of the passengers.
The last of the luggage, which came in last Monday night is the one that has been withheld by the local agent of DAAS Air pending the issuance of cheques that can be cleared, or a payment of liquid cash in lieu of the release of the luggage by Ghanair.
Tongues are already wagging in Ghana Airways as to the propriety in the action of the London office of the airline in paying £27,000 for 10,000 kilos of luggage.