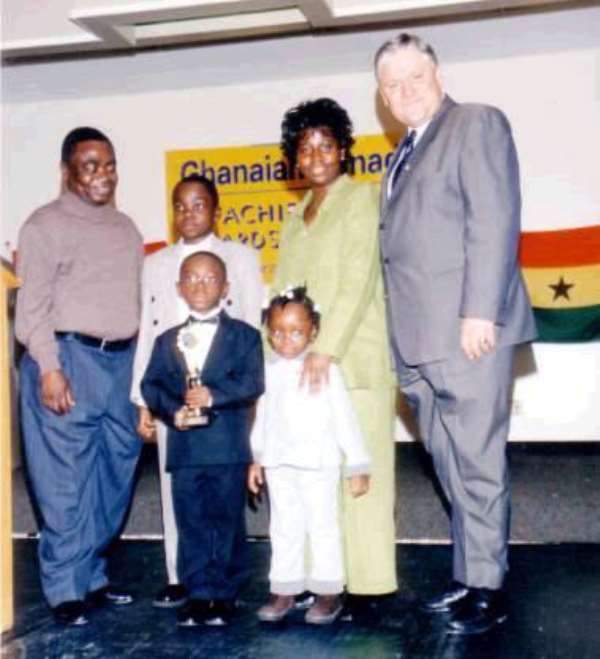 ....on Saturday August 28 The Ghanaian Community in Canada will celebrate what is billed as a Night of Achievers on Saturday August 28, 2004 at the Furmee Furlane Banquet Hall in (Woodbridge) Toronto, Canada's largest city and home to nearly seventy thousand citizens of Ghanaian origin. This is the Fifth edition of the Annual Ghanaian-Canadian Achievement Awards Night, a gathering at which members of the community who have excelled in their various fields of endeavor are presented and recognized.
The event was instituted by the community's local Newspaper, The Ghanaian News as its contribution to the community's development and recognition in Canadian society.
Like previous years' awards, this year's ceremony will honor twenty two Ghanaian-Canadians in different categories raging from excellence in Professional practice, active community service, high academic achievements, sports and music among a host of others.
The 2004 Award winners who will come from various parts of Canada are Jose Aggrey, (Ottawa) Samuel Yeboah, (Winnipeg), Lucy Amadu (Montreal) and a police officer Constable Don Yirenkyi (Toronto). Dr. Ishmael Bruce of Winnipeg and Justice Kofi Nkum Barnes (Oshawa) will be honored for Professional excellence while Philip Otchere (Toronto), Dr. John Baffoe (North Bay) and Peter Kumah (Toronto) will receive awards for Academic excellence and Education respectively.
Others are Bennet Nyame (Toronto) for Community Business initiatives, Kwasi Opoku alias Okyeame Tabiri (Toronto) for promotion of Ghanaian culture in Canada, Richard Adu-Bobie (Ottawa) and Benard Appiah (Toronto) for Sports awards. Kobena Acquaah-Harrison (Toronto) will be recognized for his contribution to the promotion of African Music in Canada, Comfort Asante (Toronto) for Gospel Music and Abraham Konadu, alias Nana Ebrey (Toronto) for excellence in Video Production.
Edmonton-Resident and Ghana's Honorary Consul General Dr. John Akabutu will be honored for receiving a National Canadian Honor while Samuel Aboagye Danso of Hamilton will be presented as Person of the Year, a New Award Category that recognizes people with selfless devotion to the community's development. Eight-Year Old Greda Agyapong will be presented as the community's Young Discovery of the Year.
Two other non-Ghanaians, Dr. John Kitakufe (Toronto) and Kathy Knowles of Winnipeg, as well as Western Union Financial services will also receive Special Awards for their active support for community programs and initiatives. The event which will be attended by a large number of community members from across Canada, politicians including Hon. Judy Sgro, M.P. York West and Minister of Citizenship and Immigration, Hon. Jean Augustine. M.P. Etobicoke Lakeshore, Hon. Roy Cullen, M.P. Etobicoke, North: parliamentary Secretary to the Deputy Prime Minister and the Minister of Public Safety and Emergency Preparedness. Others will be Business persons and the Ghana High Commissioner in Canada, H.E. Samuel Odoi Sykes.
The Keynote speaker will be Armand P. La Barge, Chief of Police, York Regional Police.
The Elegant Furmee Furlane Banquet Hall is located at 7065 Islington Ave, Woodbridge (Islington/Steeles). The Event starts at 6:00 p.m. Prompt. The Award Dinner Event will have a side attraction of Cultural and Drumming Display, Fashion show and Dance by Ghanaian Cultural Group.
For further information call 416-916-3700: 416-660-3069