A year of clashes devastates Libya's Benghazi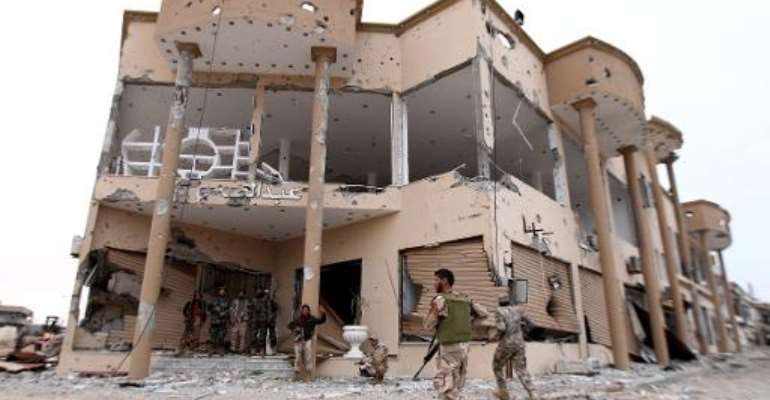 Benghazi (Libya) (AFP) - One year after Khalifa Haftar launched an offensive against Islamist militias in Libya's second city Benghazi, the capital of the 2011 revolution is reeling from near daily fighting and shortages.
Last May, the controversial officer launched "Operation Dignity", but has so far failed to take the whole city even after being sworn in on March 9 as the conflict-ridden country's new army chief.
Benghazi remains divided, scarred and struggling to survive after a year of fierce clashes that have killed more than 1,700 people, according to the Libya Body Count website, and displaced thousands.
"Benghazi is a devastated city," said journalist and activist Nadine al-Sharif.
"Residents have to cope with a breakdown in security, with even schools being shelled. There's also a high cost of living, fuel shortages and a lack of basic goods," she said.
Haftar's forces, who include police, troops and some militias who enjoy backing from the internationally recognised government, rule over most of the city apart from some areas in the centre and south.
They patrol the streets of east Benghazi, the only area where people stay out late, go out to restaurants and shops are open.
But in the central districts of Sabri and Lithi or in Hawari in the south, fighting is a near daily occurence.
In those areas, where neighbourhoods lie in ruins, rival forces have carved out their strongholds.
- Powerful, heavily armed militias -
Haftar's men control checkpoints, with sometimes only a street or a building separating them from rival fighters.
Once former insurgents who took up arms in the 2011 NATO-baked uprising that toppled dictator Moamer Kadhafi, these fighters have banded into powerful and heavily armed militias.
The largest anti-Haftar group in Benghazi is the Shura Council of Revolutionary Forces allied to the Fajr Libya (Libya Dawn) militia alliance that seized the capital Tripoli last summer.
The radical Ansar al-Sharia group -- classified by Washington as a "terrorist" organisation and suspected of involvement in the 2012 attack on the US consulate in Benghazi -- has a presence there.
The Islamic State group is also active in the city, where it has claimed attacks on army checkpoints, feeding on the lawlessness that has gripped Libya since the 2011 revolt.
The chaos has been further compounded by political divisions, with rival governments and parliaments vying for power.
The hardships of life in Benghazi became more stark last summer when Fajr Libya overran the capital and set up a rival parliament and government to the official administration.
It has been plagued by indiscriminate shelling of residential areas, suicide bombings, abductions and murders that target journalists and activists.
Attacks last week killed dozens of people, including eight children.
- 'Everything here gets shelled' -
Schools and hospitals are not spared the violence, residents and medics say.
"Everything here gets shelled," said Akilah Barassi, head of services at the Benghazi Medical Center which he said is "hit regularly every week" and suffers from major shortages of medicine.
Schools that have not been destroyed in Benghazi have been turned into temporary accommodation for the thousands of people displaced by fighting.
Shopkeeper Ayub al-Arfi says no one is safe.
"It is tough. Everyone in this city faces death by shelling. The war never stops," he said.
Arfi blamed the authorities for turning a blind eye to the suffering of the people in Benghazi, which many fear is far from over for as long as Libya's political divisions are not solved.
"The solution for Benghazi lies in the establishment of a national unity government. Otherwise the war will continue," said activist Othman Bin Sassi.
At the weekend, Haftar and Fajr Libya marked one year since the battle for Benghazi began, with each vowing victory over the other.
Haftar pledged to pursue his military campaign "until all Libyan cities are liberated of terrorists", in a reference to Islamist militias.
Fajr Libya promised to back its supporters in Benghazi in their battle against Haftar's forces, saying: "We will never abandon you and will exert all our efforts to support you."