University of Ghana Medical School Grapples With Poor Sanitation Situation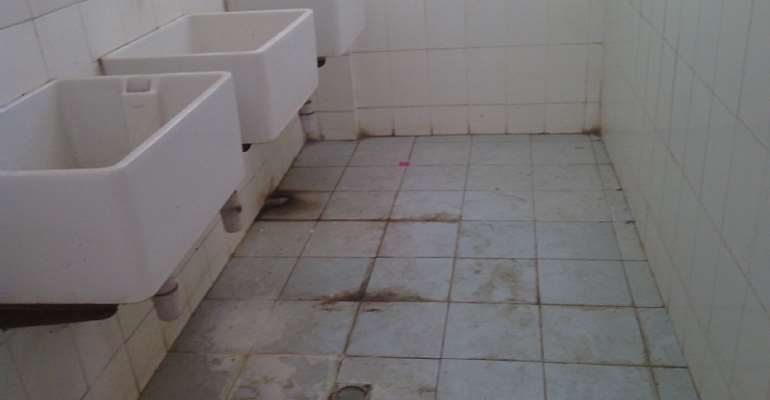 The University of Ghana Medical School has over one thousands students with majority resident in four hostels on the Korle-Bu Campus, but the school is grappling with poor sanitation.
Three months into an indefinite strike action declared by the local workers' union, washrooms have been left in deplorable condition with refuse bins overflowing with waste.
Akyea Ato-Brewoo, President of the University of Ghana Medical Students Association (UGMSA), told Radio Univers reporter Jonas Nyabor that the strike action has adversely affected the lives of students on campus.
"The sanitation around this place is not the best. TEWU and FUSSAG have been on strike since February and since then students have been trying to do the cleaning, scrubbing of washrooms and emptying of dustbins themselves," he said.
The medical students as part of their annual fees pay for sanitary and security services at their hostels but that is not being done.
Robert Kwei Nsoro Nii Armah, health officer of the Medical Students Association at Korle-Bu pointed out that the situation has been recurrent and each time it happens sanitation condition at the school is left in a poor state.
"It has been happening almost every year around this same time they go on strike and its not just for weeks but months," he said.
Water has not flowed in some hostels for the over 22 months. A tour of the campus reveals some of the washrooms have been abandoned with some toilet facilities under lock and key due to their appalling conditions.
Several bathrooms have been littered with water sachets; an indication students have resorted to using sachet water for bathing and other domestic activities.
Currently, the students association hires the services of some individuals who weed and perform other sanitary services triweekly at a cost of GH¢4 per student and in alternation organize students for a voluntary clean up exercise every Saturday to manage the situation.
By: Jonas Nyabor