Minister inaugurates water system at Bechem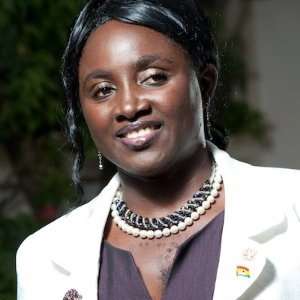 Dr Louisa Hannah Bisiw
Bechem (B/A), May 16, GNA - Dr Louisa Hannah Bisiw, the Deputy Minister of Food and Agriculture, on Thursday inaugurated a GH¢ 53,000 water system at Bechem, the Tano South District capital.
The facility, which was funded by the International Development Agency (IDA), according to engineers, would supply water directly to seven boreholes and pump more than 300 litres every day.
Dr Bisiw, who is the Member of Parliament for the area, said the Government had fulfilled almost all the promises in the 2012 National Democratic Congress (NDC) Manifesto, especially in the areas of water and sanitation.
She said an additional 27 mechanised boreholes had been constructed in the district and that works on the Dwomo and Techimantia small water systems were steadily progressing and would be completed by the end of the year.
Dr Bisiw said she had been faithful to her constituents and advised the people to look at the number of projects they had benefited from and vote for her and the NDC to continue with the good works.
Mr Justice Samuel Adjei, the Deputy Brong-Ahafo Regional Minister, advised the people to pay their taxes regularly to enable the assembly to generate enough funds for development projects.
He said areas in the region where water supply was a problem had benefited from the small water systems and entreated the water management teams to take care of the facilities.
Mr Zakari Bukari Anaba, the Tano South District Chief Executive, said the facility had increased the water supply capacity in the area from 200 cubic metres to 500 cubic metres with the district water coverage reaching 150 per cent.
He said though the assembly had channeled most of its locally generated resources into several development projects including construction and reshaping of roads, culverts, drains and sanitation facilities, more still needed to be dome in terms of provision of water, education and road infrastructure.
Mr Anaba appealed for support from Non-Governmental and Civil Society organizations and well-to-do citizens from the area to assist the district in its pursuit of growth and development.
He commended the Government and the IDA for the number of projects undertaken in the district and gave the assurance that the facility would be properly managed and maintained to benefit future generations.
GNA