Northern Students Union (NSU) Prestigious Awards/Handing Over Was A Blast!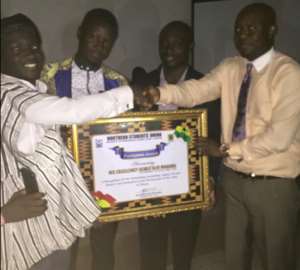 This year's Northern Student Union award day was held on Thursday, 7th May 2015 with the theme; "NSU Maiden Prestigious Awards;The Legacy from the North; Our Pride" According to the Outgoing President, the theme was chosen to highlight the significance people from the North are playing in the development of Ghana and to encourage them and others to do more.
This was disclosed in a statement signed by the President of the NSU Mr Mohammed Hardi Supremo. In the statement to commemorate the day, the President bemoaned the level of apathy shown by Northerners on Tertiary Campuses towards the activities of NSU. The event was designed to create a platform to inspire the Northern youth to be active participants in the development process of Ghana and recognise the personal Sacrifices and efforts made by people from the North and it's illustrious heroes.
As part of the activities that marked the day, Awards were given out to outstanding people that have played immeasurable roles in the lives of people, based on their personal career achievements both in Government,Corporate ladder and their developmental agenda for the north. The family of His Excellency Alhaji Aliu Mahama of blessed memory was represented to take the award including the Executive director of Aliu Mahama foundation.
Honourable Abubakari Ibrahim dey(Salaga south MP) and Honourable Inusah Fuseini(Minister for roads,MP Tamale Central) also represented. All these great people shared their life story and encouraged us to be positive irrespective of the situation. Farouk Aliu Mahama (son of the late Vice President of Ghana) as part of his speech said"I feel emotional when saying this but my father use to tell me,I was never the son of a vice President,My mother use to sell Hausa KoKo in yendi where we use to sit by the pot with a single school uniform for the whole week but it never stopped me from achieving my dreams.
You don't need to be born with the silver spoon before you make it. Just believe in yourself and as my Oldman use to say and "Do the right thing". The event was worth Attending and NSU UPSA wishes to take this opportunity to extend gratitude to all and sundry who in one way or the way made this memorable event possible.
NSU is a representation of students from the three Northern Regions of Ghana. The groups core mandate is to mobilize members from the Northern part of Ghana and enhance cultural, social and ethical values of people from the North.
Mohammed hardi supremo
Outgone President (0240720588)
Northern Students Union
UPSA Chapter