Roberto Martinez: Atsu's confidence was shattered after Dynamo Kiev game considered to be Ghanaian's worst performance at Everton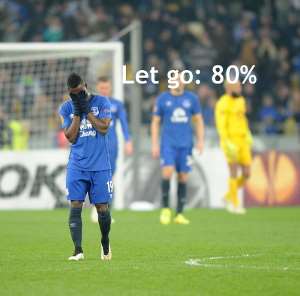 Christian Atsu has endured a torrid time at Everton
Everton manager Roberto Martinez admits Christian Atsu's confidence might have taken a massive hit following the side's exit from the Europa League to Dynamo Kiev.
The Ghana international has struggled for regular playing time since arriving from Chelsea at the start of the season.
Atsu has actually been more effective on national team duty than when playing for Everton where he earns his regular wages.
The dipped performance of the winger is unlikely to earn him an extension to his loan deal with the Toffees.
Goodison Park boss Roberto Martinez now says the Ghana international's confidence might have been shattered in the side's 5-2 defeat to Dynamo Kiev that saw them eliminated from the Europa League in the game widely considered to be the worst for Atsu in his entire time with the club.
"Maybe [about whether the Kiev game affected Atsu's confidence]," Martinez said.
"You need to be lucky because you are relying on the other 10 players to allow you to play well.
"But the attitude and the focus of the player are of the highest standard."
Atsu has made only 13 appearances for Everton this season owing his limited opportunities to dodgy form and injuries.