NDC has been unfair to Togbe Afede - Kyeremateng Agyarko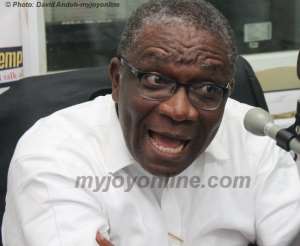 MP for Ayawaso West Wuogon says the governing National Democratic Congress acted irresponsibly in "even contemplating" that Togbe Afede's could serve on the party's committee despite a constitutional provision barring chiefs from doing politics.
"I think the party has been completely unfair to Togbe Afede. This is irresponsible. This party has grossly been unfair to this man. You put this man up for ridicule" Emmanuel Kyeremateng Agyarko said on Multi TV's AM Show Wednesday.
The NDC recently constituted five working committees and invited President of the Volta Regional House of Chiefs Togbe Afede to serve on the Economic Committee.
Togbe Afede
The Chief has since declined the invitation.
Although the NDC earlier justified its decision, the party has apologized to the chief explaining that it was a mistake.
NDC General Secretary explained that although the name of the Volta chief popped up during deliberations, the suggestion was shot down.
Article 276 (1) of the constitution states that "A chief shall not take part in active party politics; and any chief wishing to do so and seeking election to Parliament shall abdicate his stool or skin."
Meanwhile a member of the NDC legal committee and law lecturer Abraham Amaliba is calling for an interpretation of the constitutional provision to clearly explain what taking active part in politics really means.
"Is it when you wear a T-Shirt of a political party's colours or when you mount a political platform. This aspect has not been defined" he explained.
"It is a bit dicey", the NDC lawyer stated.
Listen to audio