Mahama Must Learn To Tolerate Divergent Views On Social Media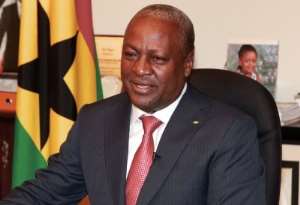 The Centre for Democratic Development (CDD) has advised the Presidency to tolerate all the divergent views it receives from Ghanaians on its social media platforms.
The Center pointed out that the seat of government must consider the various social media platforms as another avenue for broader engagement with the public rather than being dismissive.
There have been concerns over the recent spate of comments deemed disrespectful to the office of the President on various social media platforms from some workers at the Presidency and Ghanaians.
Some officials at the Presidency have accused citizens of disrespecting the office of the President through their social media posts.
In turn, majority of Ghanaians have also blamed these officials of failing to be measured in their comments and responses to persons who raise issues concerning the Presidency.
In an interview with Citi News, Head of Programmes at the CDD, Dr. Franklin Oduro remarked that once the Presidency strives from time to time to engage the populace on important issues through social media, it should as well take in good faith comments that emanate from there.
He stressed the need for decorum but maintained that dissenting views should be encouraged.
"Once you open yourself up for such an engagement, you should be prepared to receive what people will say. I'm not suggesting that people should use that platform to insult the President or insult officials at the Presidency but so long as people are engaging with issues, so long as people are expressing their views which may be contrary from what is coming from the Presidency, I don't see anything wrong or I don't see that to be a disrespect," he said.
Dr. Oduro further cautioned officials associated with the Presidency to be measured in their comments during engagements on issues emanating from social media platforms.
The conduct of these officials at the Presidency sometimes leads to some kind of disrespect for the office.
He likened it to the negative impression Ghanaians have for the Ghana Police Service due to the conduct of few Police officers, explaining that if a few officials from the Presidency misconduct themselves, citizens will in turn disrespect as well as have negative impressions about the nation's seat of government.