Fishermen Jailed For Selling Human Being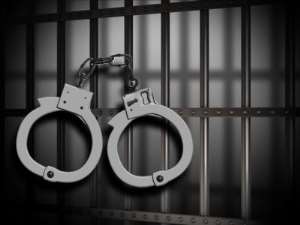 The Donkorkrom District Magistrate Court, presided over by Anthony Abebresse, has sentenced two fishermen to 12 months imprisonment in hard labour for attempting to sell a 40-year-old, Evans Kuma, at GH¢12,000.
The two fishermen, Joshua Kpodo and James Djagletey, both aged 28 years, pleaded guilty to the charge of trading in human beings.
According to the prosecutor, Chief Inspector Fred Gyimah, the two fishermen lived at Kwahu Adawso in the Kwahu South District.
He said about two weeks ago, the fishermen attended a funeral at Ekye Amanfrom and approached the Afram Plains North District Coordinator of the National Disaster Management Organisation (NADMO), Timothy Gbogla, and told him that they had heard that one Gambo was trading in human beings, and that they wanted to know whether he was the one as they had one human being to offer.
The prosecutor said  Mr Gbogla pretended to be the said Gambo who traded in human beings for ritual purposes,  and Kpodo and Djagletey started negotiations with him and arrived at GH¢12,000.
Chief inspector Gyimah said during the negotiations, Mr Gbogla used his mobile phone to record the conversation between them and both parties exchanged telephone numbers.
He said the following day the two fishermen called Mr Gbogla to inform him that they had succeeded in bringing one person to him at Ekye Amanfrom where he (Gbogla) lived.
The prosecutor said the accused persons, on arrival at Ekye Amanfrom with Kuma, sent him to a hotel where they gave him a quantity of local gin (Akpeteshie) which made him intoxicated.
He said the fishermen then called Gbogla to come to the hotel with the agreed money and take the victim away.
Chief Inspector Gyimah said Gbogla, who had alerted the police, went to the hotel and in the process of making the payment, the police arrived and arrested the two fishermen.