Puerto Rican COINTELPROLOGY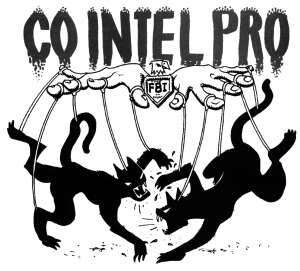 The struggle for Puerto Rico decolonization has always been fragmented due to the following reasons.
Puerto Rico has always been a colony. She was first Spanish possession for over 400 years, and then of United States government for the past 117 years.
Colonies are for exploitation. The empire must not teach its colony the real history if it wants to keep its colony forever. If the colonywere to learn its history, a revolution wouldeventually occur. This is why, most Puerto Ricans do not know their history. Those of us who do is because we have dug it out on our own.
For those of us who have learned ourhistory and have decided tofight for decolonization, our next big obstacle is COINTELPRO.
COINTELPRO is the FBI's code name for its Counter Intelligence Program. Its purpose is to make sure that things stay the way the US government wants. The FBI will do whatever it takes to maintain thestatus quo. That includes violating its own laws andcommitting murder! There are various books about COINTELPRO that you could read. The one I read was published in the 1970's and is called, The COINTELPRO Papers.
A big part of what COINTELPRO does is to make sure that Puerto Ricans don't collaborate to decolonize themselves. By preventing us from creating the tsunami of people necessary to force the US government to comply with the United Nations' 33 resolutions to immediately decolonize Puerto Rico, it can keep us a colony forever.
In the meantime, the US government pretends that it has nothing to do with our fighting. It tells the world that the US government is willing to give Puerto Ricans whatever they want, but that weare the ones who can't decide. And that is the second deception.
That fact of the matter is that Puerto Ricans have nothing to decide at this point. The United Nations(UN) determined in 1960 that colonialism is a crime against humanity,because of its threat to world peace. Therefore, it is the United States government that unilaterally has to give Puerto Rico her power to govern herself. Then, would be the time for Puerto Ricans to decide their own future without outside interference.
Therefore, it is a prerequisite for everyone who decides to fight for Puerto Rico self-determination to understandCOINTELPRO, so that we can avoid fallinginto the trap that will keep us a colony forever.
Don't expect the US government to decolonize us, because it was the one thatunilaterally decided to make Puerto Rico its colony in the first place. And besides, those who maintain colonies, don't believe in Justice for all.
2nd Oscar – Mandela March in NYC, Monday, June 22, 2015: www.TodosUnidosDescolonizarPR.blogspot.com
Tag:Understanding COINTELPRO = PR independence