"I will do better as President than John Mahama"-Mensah-Bonsu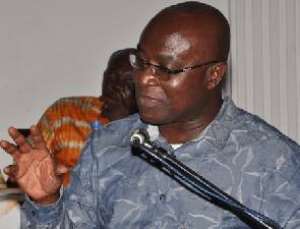 Minority Leader and MP for Suame, Osei Kyei Mensah-Bonsu may be considering becoming President of Ghana in future.
In an interview on Kumasi based Fox FM, the experienced parliamentarian said he believes he would make a better President than the sitting President, John Mahama.
"My performance in parliament is 100% better than that of John Mahama during his parliamentary days. He is my friend and I know what he can and cannot do".
When asked whether he is eyeing the Presidency, he answered "which Policeman wouldn't want to become IGP".
The Minority leader also stated that Nana Addo was several times better in Parliament than the President.
Many in the Suame constituency have accused the MP of doing very little for them since becoming their representative.
Osei Kyei Mensah-Bonsu however believes people who are eager to see him out of parliament do not understand the workings of parliament and what it means for them to have their MP among the leadership of the house.