Accra: NPP chairman vows to return aspirants filing fees if…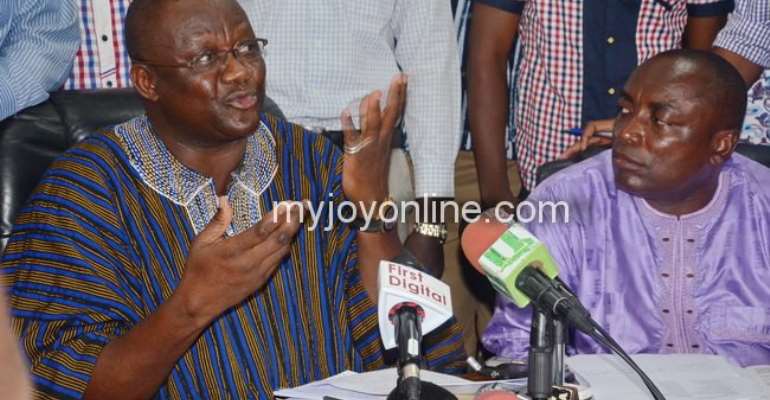 The Greater Accra Regional Chairman of the NPP has warned, he will return all filing fees to the party's parliamentary aspirants if National Executives insist on overturning the disqualification of aspirants granted waivers by General Secretary, Kwabena Agyepong.
Mr. Agyepong has been accused of unilaterally granting the waivers.
The Greater Accra Regional chairman, Ishmael Ashitey also accused the General Secretary of unfairness.
All four aspirants who were granted waivers in the region have been disqualified. But Mr. Ashitey says there are moves within the party to push the disqualified aspirants through.
"I have heard they are trying to push that thing, if they attempt doing it and they do it, I will give everybody's money to him because we must all play on the same playing field."
The NPP is expected to later today announce the full results of the vetting. Ahead of that, Central Regional executives of the party have confirmed to Joy News, the clearance of former leading member of pressure group Occupy Ghana, George Ander following a probe into a petition challenging his qualification.
Kwamena Duncan, Regional Secretary told Joy News "everything proves" that he is a member of the party, "leaving no doubt" on the minds of the vetting committee and leadership of the party that he is "more than qualified".
Meanwhile, a member of the council of elders Ayisi Boateng is appealing for calm ahead of talks set to be called by the council to resolve the recent feud among some national executives.
Yesterday, Kwabena Agyepong took on the National Vice Chairman of the party Mr. Freddie Blay, accusing him of using his newspaper, Daily Guide to run him down.
He questioned if Mr. Blay had joined the NPP to destroy it. But Mr. Ayisi Boateng says the infighting must stop.