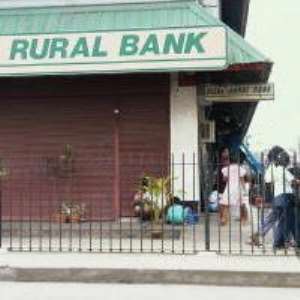 Kwahu-Pepease (E/R), May 7, GNA - Despite the economic challenges including erratic power outages facing the country, the Kwahu Rural Bank's deposit grew from GH₵12.6 million in 2013 to GH₵14.3 million in 2014, an increase of 13.7 per cent.
The bank, however, made a net profit after tax of GH₵846, 601.00 in the year under review as against GH₵911,368.00 two years ago, a decrease of 7.1 per cent and spent GH₵317, 475.50 to pay a dividend of 0.00453 per share to its shareholders.
Mr Ernest Appeadu, the Chairman of the Board of Directors, made this known at the third Annual General Meeting (AGM) of the bank at Kwahu-Pepease at Kwahu East District in the Eastern Region.
He said the shared capital of the bank went up from GH₵532,584.00 in 2013 to GH₵642,226,000.00 last year, an increase of 20.59 per cent.
He said it was the aim of the board and management of Kwahu Rural Bank to increase the share capital to an appreciable level as compared to other competitors.
The Board Chairman said the bank was able to grant loans and over-drafts worth GHC80.07 million last year to its salary workers and its customers in the agriculture, commerce, transport, and cottage industry.
This was against GH₵7.4 million in 2013, an increase of 9.60 per cent while the net worth of the bank also increased from GH₵2.7 million in 2013 to GH₵3.2 million last year, an increase of 18.58 per cent.
In an address read on his behalf, the Managing Director of ARB Apex Bank, Mr Kwadwo Aye Kusi, said the outstanding performance of the bank in the rural banking industry amidst steep competition in the financial services industry in general, required consistent management of the bank's resources to achieve growth and urged the bank to offer innovative products to their customers.
He advised the bank to channel its resources into the productive sector of the economy and again advised that the credit department of the bank be strengthened to cope with the increasing demand of funds.
Mr Kusi said with the increasing competition in the banking industry, Kwahu Rural Bank should step up its operations in order to maintain its strong standing in the banking industry.
He commended the board, management and staff of the bank for their outstanding performance and appealed to shareholders to continue to invest in the bank.
Rev. Augustus Nertey, the Eastern Regional President of the Association of Rural Banks, in an address read on his behalf, urged rural banks to have good and committed boards to steer the affairs of such banks, adding that the board was responsible for any shortfall or failures of any rural or community bank.
GNA