Only 19 per cent of the dead were registered in 2014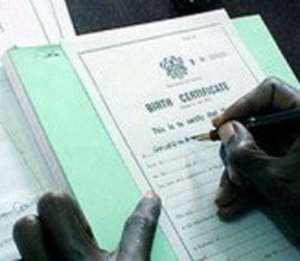 Accra, May 6, GNA - The Birth and Death Registry says it registered a total of 52,576 dead people nationwide in 2014, attributing the low figures to cultural and religious practices.
It said the figure for 2014 constituted 19 per cent of its target of 272,187 registered deaths.
Of the total figure, 29,119 were males and the rest females.
The regional distributions include Western 2,824; Central 5,087; Greater Accra 16,205; Eastern 7,535; Volta 4,010, Ashanti 10,487; Brong Ahafo 4.090; Northern 1,597; Upper East 454; and Upper West 307.
Mr John Yao Agbeko, Registrar of Birth and Death Registry told the Ghana News Agency in Accra on Tuesday, that the low figures of death registration recorded in 2014 could be attributed to certain cultural and religious practices in the country.
He said information on the need for people to register the dead had gone down well with Ghanaians adding that some people were not willing to comply with it.
The Registrar observed that births and deaths registration play a very critical role in planning for the country's socio-economic development.
Mr Agbeko, therefore, appealed to opinion leaders, civil society organisations and the media to help in raising awareness on the importance of births and deaths registration.
He said the projections of the Registry for the registration of the dead for 2015 is 278,992; with the regional breakdown as Western 26,233; Central 25,650; Greater Accra 46,714; Eastern 29,215; Volta 23,966; Ashanti 54,615; Brong- Ahafo 25,893; Northern 28,604; Upper East 11,109; and Upper West 7,714.
The Registrar said the challenges facing the Registry are due to financial constraints and low staff levels.
Mr Agbeko appealed to government and the Ministry of Finance to allow the Registry to keep part of its non-taxable revenue of the internally generated funds for its administrative work.
GNA